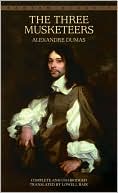 January 5: Onthis day in 1825 twenty-three-year-old Alexandre Dumas (Sr.) embarked on hisself-proclaimed "career as a romantic" by fighting his first duel.Dumas's memoirs are about as reliable as his historical fiction, but they tellthe pants story in glorious, comedy-of-errors detail. He had issued hischallenge to fight after quarreling with a soldier over billiards two daysearlier. He confidently assured his seconds that he was adept with a pistol,only to find that swords had been chosen. Undaunted, he attended the appointedplace and hour, and then a second hour, only to have his still-sleepingopponent postpone for a day. The extra day of preparation apparently did nothelp: because he had forgotten the braces for his trousers, they fell down.Angered and embarrassed before the bystanders, Dumas finally made his firstpass only to see his opponent jump back, trip on a root, and somersault into asnow-bank. Feeling cheated, Dumas yelled, "I barely touched him!"—withwhich his shirtless opponent agreed, explaining that he had jumped in shock atthe touch of the cold sword blade.
Dumas's memoirs tell of other such episodes. Another duelwas postponed for a day because his opponent had caught a cold while skating onthe canal; a third had to be canceled altogether because his opponent lost twofingers in his previous duel. One quarrel with a politician resulted in astrategy that seemed sure to avoid misfiring: both sides agreed to draw lots,the loser pledging to shoot himself. Dumas lost and withdrew to another room,closing the door behind him. Long moments followed on both sides. Hearing ashot at last, the crowd rushed in to find Dumas unhurt and holding a smokinggun: "Gentlemen, a most regrettable thing has happened. I missed."
Dumas's tales of TheThree Musketeers seem to be inspired by his own frustrated or misfiredromanticism. When we meet D'Artagnan we are told to imagine a young Don Quixote,and in his first attempt at dueling he, too, is humiliated: big-city toughsbeat him to the point of fainting, break his father's sword in half and tellhim to ride his funny horse back to the farm from whence he came.
---
Daybook is contributed by Steve King, who teaches in the English Department of Memorial University in St. John's, Newfoundland. His literary daybook began as a radio series syndicated nationally in Canada. He can be found online at todayinliterature.com.