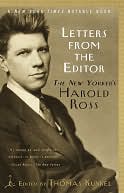 February 21: The New Yorker magazine celebrates its eighty-sixth anniversarytoday. In the first issue, dated this day in 1925, editor Harold Ross promisedthat the magazine would be "a reflection in word and picture ofmetropolitan life":
It will be human. Itsgeneral tenor will be one of gaiety, wit and satire, but it will be more than ajester. It will be not what is commonly called sophisticated, in that it willassume a reasonable degree of enlightenment on the part of its readers. It willhate bunk . . . .
On the visual side, Ross'sfamous promise to deliver a magazine "not edited for the old lady inDubuque" was largely achieved by art editor, Rea Irvin. But it is Ross'spersonality and preferences which dominate most accounts of the magazine'searly days. The following is from James Thurber's The Years with Ross:
He had a sound sense, aunique, almost intuitive perception of what was wrong with something,incomplete or out of balance, understated or over-emphasized. He reminded me ofan army scout riding at the head of a troop of cavalry who suddenly raises hishand in a green and silent valley and says, "Indians," although tothe ordinary eye and ear there is no faintest sign or sound of anythingalarming.
Many eminent contributorsand staffers balked at the over-protection their prose received from Ross andhis fastidious editorial troops. Seeing that someone had changed "hen"to "her" in his "Notes and Comment" piece on pigeons andsquabs, E. B. White wrote to Ross to inquire if the change was a typo or acorrection:
Ten years ago I would havebeen reasonably sure it was a typo. Today, with pigeon-checking at the pitch ithas reached, I can't be so sure. …[I]f the NYer ever reaches that degree ofperfection toward which it is tending, when each word will have been takenaside and re-plated with silver, there won't be much left. I should not live500 miles away and write about pigeons. It is too far away, and I know too muchabout pigeons.
---
Daybook is contributed by Steve King, who teaches in the English Department of Memorial University in St. John's, Newfoundland. His literary daybook began as a radio series syndicated nationally in Canada. He can be found online at todayinliterature.com.