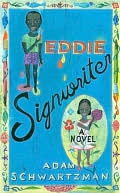 Adam Schwartzman's admirably cosmopolitan CV—a Caucasian native of South Africa, educated in the UK and now resident in Turkey, with three books of poetry to his credit—equips him perfectly to tell the story in his lowkey yet affecting debut novel, Eddie Signwriter. Sensitive observer, multicultural expatriate, author and hero alike.
Kwasi Edward Michael Dankwa—later to be christened Eddie Signwriter—is born into relatively prosperous circumstances in the country of Ghana. Loved well by his parents, if a tad too severely, he is sent to a private school away from home. There he will fall in love with a peer named Celeste, niece of a rich woman named Nana Oforiwaa. But the unbridled passion of the teens indirectly results in the death of Nana, and from this moment on Eddie lives his life under an existential curse, forever torn between the opposing horses of chance and will, destiny and self-direction. Schwartzman charts Eddie's erratic course over the next several years like a naturalist tracking an exotic big cat: the empathy is underscored with scientific precision.
Schwartzman's language hums and pops with beautiful yet homely figures of speech. "His heart was full as a wardrobe." "'It's hard enough for Kwasi even to cast his own shadow.'" In several bravura passages, Schwartzman textures his prose to mimic the events in progress. The chapter titled "Man Traveling" provides the best example, with a lengthy unbroken hallucinatory passage reflecting a hellish train ride Eddie takes on his way to eventual exile in Paris.
Disdaining the expected magical realism associated with Third World narratives, Schwartzman shows his true mentors to be Henry James, Ian McEwan and Mark Helprin.
-PAUL DI FILIPPO
---
Paul Di Filippo's column The Speculator appears monthly in the Barnes & Noble Review. He is the author of several acclaimed novels and story collections, including Fractal Paisleys, Little Doors, Neutrino Drag, and Fuzzy Dice.