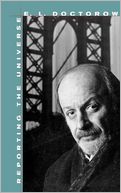 E. L. Doctorow turns eighty-one today. In the William E. Massey Lectures he delivered at Harvard University in 2003 (published as Reporting the Universe), Doctorow describes growing up in the Bronx surrounded by a love of music and bad writing:
I was given the name Edgar because my father loved the work of Edgar Allan Poe. Actually he liked James Fenimore Cooper too — in fact he liked a lot of bad writers — but I am consoled because Poe is our greatest bad writer. Just a few years ago I said to my aged mother, "Did you and Dad realize you were naming me after an alcoholic, drug-addicted, delusional paranoid with strong necrophiliac tendencies?" "Edgar," she replied, "that's not funny."
Doctorow says that he had decided to be a writer by age nine; by age twelve he had already worked through his Poe period, "setting my stories in dungeons or dark houses that lacked central heating" — though he clearly retained Poe's overactive imagination in high school:
What happened was this: our high school journalism teacher ordered us to go out into the world and conduct an interview. I threw myself into the assignment, exercising initiative, working hard, and I turned in an interview with the stage doorman at Carnegie Hall. He was a German-Jewish refugee, a camp survivor, the only one in his family, a prematurely aged sweet-tempered man with rheumy eyes, who wore an old double-breasted blue serge jacket, unbuttoned, and baggy brown pants. Each evening he came to work with his lunch in a paper bag and a thermos of hot tea. He drank his tea in the old-world way by putting a cube of sugar between his teeth and sipping the tea through the sugar. His life had been shattered but he had spirit, and he knew the repertoire, he could speak knowledgeably about composers and musicians. Over the years he'd become a fixture in the place, and all the great recitalists, Horowitz, Rubinstein, Jascha Heifitz, knew him and called him by his first name, Karl. Karl the Doorman.
The journalism teacher praised the interview highly and pushed hard to get a photograph of the interviewee. Whereupon there seemed to Doctorow no alternative but to admit that Karl and his story, though "a parable of the novelist's birth," was a total fabrication.
---
Daybook is contributed by Steve King, who teaches in the English Department of Memorial University in St. John's, Newfoundland. His literary daybook began as a radio series syndicated nationally in Canada. He can be found online at todayinliterature.com.