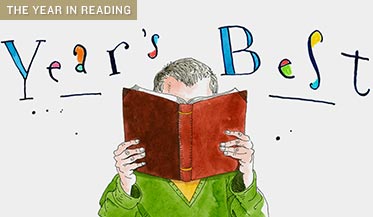 In the past year, we?ve published more than three hundred full reviews and feature essays. As part of our year-end retrospective, we?ve selected twenty-five pieces as representative of the high quality of thought and expression our contributors bring to this site day in and day out. The pieces cover prominent new books, revelatory discoveries, and informed considerations of an author?s career; what they share is eloquence, a happy marriage of writer and subject, and a passion for reading that transcends the particularities of publication date or fashion. Happy reading. – The Editors

Laura Warholic: Or, The Sexual Intellectual — Reviewed by Paul LaFarge

Have you ever wished you could travel up the river to meet Kurtz? I'm not talking about Joseph Conrad's colonial agent; I mean the Marlon Brando of Apocalypse Now, fat, bald, mad, endowed with a vast spirit and an equally great hatred of mankind. If you have ever had such a wish or wondered idly what it would be like to spend time in Kurtz's company, then allow me to recommend a book to you: Alexander Theroux's novel Laura Warholic, or, The Sexual Intellectual.



Swimming in a Sea of Death — Reviewed by Scott McLemee

Susan Sontag is routinely identified as one of the New York Intellectuals. But most of the events and landmarks necessary to situate her in cultural history were always, in fact, French. Following her death during the last week of 2004, she was buried in the Montparnasse Cemetery in Paris, as David Rieff mentions in the final chapter of Swimming in a Sea of Death: A Son's Memoir . That destination seems very fitting. And so does the tone of this calm and even rather severe little book.



Flann O'Brien: The Complete Novels — Reviewed by Thomas DePietro

Fans of modern Irish literature who like their fiction challenging and unbridled worship the holy trinity of James Joyce, Samuel Beckett, and Flann O'Brien.



The Purpose of the Past: Reflections on the Uses of History — Reviewed by Brooke Allen

When a writer sets out to publish a collection of his or her essays and reviews, the finished product all too often shows traces of the author's unsuccessful struggle to create a unifying theme for disparate and unwieldy material. But Gordon S. Wood, the eminent historian of 18th-century America, has not had to make any such effort, for this collection of his long reviews (most of which initially appeared in The New York Review of Books ) serves as a neat anatomy of the changes intellectual fashion has imposed on his discipline over the past 25 years, and a commentary upon the process of writing history that is both sensible and sensitive — and sometimes impassioned, as well.


The Wagner Clan — Reviewed by Alexandra Mullen

Richard Wagner, it is claimed, is one of those magnetic cultural figures who either attracts or repels: you're either a true believer or a deep hater. Friedrich Nietzsche was both, although not even his gymnastic intelligence could manage to be both at the same time. Leonard Bernstein managed what Nietzsche could not; he said he "hate Wagner but on bended knee."



Animal's People — Reviewed by Eric Banks

When Indra Sinha's Animal's People was published last year in the UK, virtually every review of the novel took account of its lacerating first line, delivered by its horrifically maimed, nineteen-year-old protagonist: "I used to be human once. So I'm told." It isn't hard to figure why it hooked critics: Sinha controls language so magnificently in this novel — which was shortlisted for the 2007 Man Booker Prize and is now being published in the United States — that the serrating lead sentence carves out his territory with a vengeance.



Dictation — Reviewed by Mark Sarvas

"History," wrote Henry James in a 1910 letter to his amanuensis Theodora Bosanquet, "is strangely written." This casual aside could easily serve as the epigraph of Cynthia Ozick's superb new collection Dictation, which concerns itself with lost worlds evoked by languages — languages which separate and obscure as readily as they bind.



A Summer of Hummingbirds — Reviewed by Matthew Battles

In the summer of 1864, novelist Harriet Beecher Stowe brought an injured hummingbird into her house. She fortified its spirits with sugar water, provided a little bed, and mandated convalescent naps; in a short time she had it perching at her side to take its meals from a tiny spoon. A male hummingbird with his hunger and his aggression is a comical image of human masculinity; with his injuries and his blood-red throat, this one may also have been a stand-in for Harriet's son Fred, wounded grievously at Gettysburg the year before, a son of temperance activists who would seek solace in the bottle for the rest of his life, until he disappeared without a trace in far-off San Francisco.



The Suspicions of Mr. Whicher: Murder and the Undoing of a Great Victorian Detective — Reviewed by Katharine A. Powers

Sometime in the wee hours of June 29, 1860, in Road Hill House in Wiltshire, England, Saville Kent, a child of three, was taken from his cot beside his nursemaid's bed and murdered.



Personal Days— Reviewed by James Parker

A former office mate of mine, reporting for duty on his first day at the company, was taken in hand by somebody in HR for a pro forma introduction to the company president. It was around lunchtime, and the chief executive was off havin