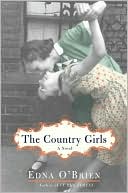 December 15: EdnaO'Brien turns eighty today, and her first novel, The Country Girls turns fifty this year. For her style and herunrivalled insight into relationships—among contemporary writers, says the New York Times, she is "the major cardiologist of brokenhearts"—O'Brien has won virtually every literary prize Ireland has tooffer, but The Country Girls andother earlier books provoked outrage at home when they first appeared.
The two, opposite sisters in The Country Girls reflect O'Brien's ambivalent relationship withher upbringing in rural County Clare. In a 2008 newspaper article she recallsthat she wrote the book while living in London, in three weeks and in anoutpouring of love-hate for "the country I had left and wanted to leave,but now grieved for, with an inexplicable sorrow":
Images of roads and ditches and bog and bog lake assailedme, as did the voice of my mother, tender or chastising, and even her coughwhen she lay down at night. In the fields outside, the lonely plaint of cattle,dogs barking and, as I believed, ghosts. All the people I had encountered keptre-emerging with a vividness: Hickey our workman, whom I loved; my father, whomI feared; knackers; publicans; a travelling salesman by the name of Sacco, whosold spectacles and sets of dentures; and the tinkers who rapped on the doordemanding money in exchange for mending tin pots. …There was no library in thelocal town and hence no books. One copy of Rebeccahad reached us and pages were passed from one woman to the next, though alasnot consecutively.
The novel's irreligion, sexual frankness, and socialcriticism provoked some in Ireland to book-burnings and hate mail, and evenO'Brien's mother censored it, in country fashion. "She erased with blackink any of the offending words," recalls the author, "and the bookwas put in a bolster case and placed in an outhouse." The reception given The Country Girls and other novels isreflected in O'Brien's 1976 memoir, MotherIreland, which is a double tale told in a double tone. The book interweavesthe author's recollections of her youth and exodus with her profile of thecountry and its people, and though much of it is fond and empathetic, it hasthis quotation from Samuel Beckett's MaloneDies as epigraph:
Let us say before I go any further, that I forgive nobody. Iwish them all an atrocious life in the fires of icy hell and in the execrablegenerations to come.
---
Daybook is contributed by Steve King, who teaches in the English Department of Memorial University in St. John's, Newfoundland. His literary daybook began as a radio series syndicated nationally in Canada. He can be found online at todayinliterature.com.