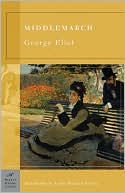 On this day in 1880, George Eliot died, aged sixty-one. Except for one difficult series of events, Eliot's last decade was a literary and social triumph, one that she regarded as a mixed blessing. She had been born on a Midlands farm, she had lived in boarding schools from age five to nineteen, she had tended her father in his house for the full decade of her twenties and then roomed in other people's houses for years after that. When she finally got her own home, few would come to it, or invite her out of it, for fear of offering endorsement to Eliot's notorious agnosticism and her cohabitation with George Lewes, a married man.

Now she not only owned a house in Regent's Park but also had high-society London (and Europe and America) lined up for invitations to it, ideally to one of her prestigious "Sunday at Home" gatherings. "Lords and Ladies, poets and cabinet ministers, artists and men of science, crowd upon us," wrote Lewes in one proud letter. They continued to line up at the bookshops, too, not only for her novels but also for her book of Wise, Witty and Tender Sayings and The George Eliot Birthday Book, a calendar of quotations. Perhaps understandably, all this left her feeling over-marketed: "I am so tired of being set on a pedestal and expected to vent wisdom," one of Eliot's friends recalls her saying.

The events that shook that pedestal came just seven months before Eliot's death, when she decided to marry Johnnie Cross, a man twenty years younger. The speed and daring of this final leap challenged even some of Eliot's most devoted followers; and when the new husband made his own, near-fatal leap from the couple's honeymoon bedroom window into Venice's Grand Canal, there was renewed sniggering from her enemies, those who found abhorrent either her freethinking or her physical appearance.

Yet, though many found Eliot "magnificently ugly — deliciously hideous" (Henry James), many more found her "a memorable figure, inordinately praised and shrinking from her fame, despondent, reserved, shuddering back into the arms of love as if there alone were satisfaction and, it might be, justification, at the same time reaching out…for all that life could offer the free and inquiring mind and confronting her feminine aspirations with the real world of men" (Virginia Woolf).
---
Daybook is contributed by Steve King, who teaches in the English Department of Memorial University in St. John's, Newfoundland. His literary daybook began as a radio series syndicated nationally in Canada. He can be found online at todayinliterature.com.