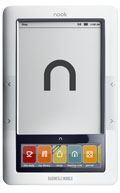 Readers of the Barnes & Noble Review — and in particular fans of Eloisa James's Reading Romance column — will be excited to hear Eloisa's latest announcement on her own website:
"To celebrate the upcoming release of my latest novel A Kiss at Midnight, my publisher, Barnes & Noble, and I have teamed up to offer not one, but TWO chances to win a Nook, the Barnes & Noble electronic reader, plus a $50 B&N gift card to the bookstore. There are even more fabulous prizes to be had—there are two ways you can enter to win the Nook and more."
Visit Eloisa's website to get the full details, or you can enter via Eloisa's Facebook page. And don't miss her July column on wonderful romance reads for young adults.