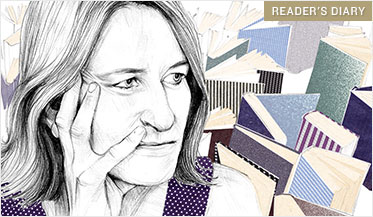 School for Love
The Englishwoman Olivia Manning (1908–80) was one of the best writers of her era, but she never entirely caught on in this country, perhaps because we are still a little too optimistic and sentimental to accept her essentially dyspeptic, cynical vision of the human race. Her Balkan Trilogy and Levant Trilogy, in which she fictionalized many of her own wartime experiences in Eastern Europe and the Middle East, did achieve a certain modest success here, as did the television series it inspired, Fortunes of War. But her other novels never found a wide American audience, and School for Love, considered one of her best, is only just now appearing here (from New York Review Books), six decades after its publication in Britain.

School for Love tells of the orphaned, 15-year-old Felix Latimer, who arrives in Jerusalem toward the end of World War II to live with an unknown family connection named Miss Bohun. Grudging, cheeseparing, and loveless, this lady turns out to be the sort of monster of which Manning made a specialty throughout her career. Failing her, on whom can the innocent, affectionate Felix bestow his love? The attractive young widow who boards with Miss Bohun? The bedraggled old man upstairs? Miss Bohun's beautiful cat? A penetrating study of loneliness, School for Love is also a thoughtful if impressionistic portrait of a city of transients, refugees, and religious zealots at a point of historical transition between one war and the next.

From the Holy Mountain and City of Djinns
I found another view of this part of the world in William Dalrymple's From the Holy Mountain: A Journey Among the Christians of the Middle East. Dalrymple, who has squeezed more into his four decades on the planet than most could in 20 lifetimes, has inherited the mantle of the great erudite travel writers of the past such as Patrick Leigh Fermor, Robert Byron, and Wilfred Thesiger. Indeed, in my opinion he has surpassed them, combining a flabbergasting range of knowledge on a wide array of subjects with a clear, elegant style and an agreeably dark sense of humor. From the Holy Mountain, which first appeared a decade ago, tells of his six-month journey in the footsteps of two sixth-century monks: from the Orthodox monasteries of Mount Athos to the Coptic ones of Upper Egypt, via Turkey, Syria, Lebanon, Israel, and Jordan, "to discover what was left, and to witness what was in effect the last ebbing twilight of Byzantium."

Due to "the ever-accelerating exodus of the last Christians from the Middle East," Dalrymple writes, Christianity is suffering a "devastating decline in the land of its birth": while 80 years ago Christians made up more than half the population of Jerusalem's Old City, for example, they counted for less than 2.5 percent at the time of Dalrymple's visit. The rise of fundamentalism and the hardening of attitudes throughout the region have created a feeling of fin de race all over the Middle East, where "the multinational has given way to the mono-ethnic, the cosmopolitan to the narrowly national." From the Holy Mountain could do with better photographs and a map or two; otherwise, it is a perfect introduction to an exotic world.

So is City of Djinns, Dalrymple's account of a year spent in Delhi. Having fallen in love with the city on a post-university backpacking trip, he moved there soon afterwards with his new bride, taking a little flat in the metropolis he characterizes as "a labyrinth, a city of palaces, an open gutter, filtered light through a filigree lattice, a landscape of domes, an anarchy, a press of people, a choke of fumes, a whiff of spices." Adopting an original reverse chronology, Dalrymple peels off the layers of Delhi's history like the skin of an onion: beginning with the chaotic modern city, he goes back in time to the Delhi of the British Raj, of the Mughal emperors, of the terrifying medieval sultan Tughuluk, and finally to the pre-Islamic, pastoral world familiar to us from the Mahabharata.

Dalrymple found himself astonished at how little evidence remained in Delhi of the lengthy British presence: "In the conversation of my Indian contemporaries, the British Empire was referred to in much the same way as I referred to the Roman Empire." But much of modern India has been formed by the trauma of the empire's breakup and partition in 1947. The young historian Alex von Tunzelmann has provided an absolutely riveting backstage look at the negotiations that led up to these momentous events in Indian Summer: The Secret History of the End of an Empire (now in paperback from Picador).

Indian Summer: The Secret History of the End of an Empire
Von Tunzelmann has done extensive archival research, but she also presents her rich cast of characters with a real dramatic flair. There are the mystic ascetic Gandhi and the atheist sophisticate Nehru, surely one of history's strangest pairings; there are the touchy Jinnah and the diehard imperialist Churchill, unlikely allies in the creation of Pakistan; and finally, there is the dashing but inexperienced last viceroy, Lord Mountbatten, a semi-royal and "rather a Ruritanian figure," as Clement Attlee put it.

Mountbatten had serious limitations and shortcomings: nevertheless, "Perhaps uniquely among the high ranks of the British armed forces, he was liberal, personally charming and apparently favored Asian nationalism over Western imperialism." He also had a gifted and energetic wife, whose powerful romantic bond with Nehru (condoned by her husband) helped to ease Anglo-Indian relations through Independence and beyond. Von Tunzelmann, refreshingly, resists the temptation either to idealize any of these characters or to cast easy blame on them for the disasters of partition; the result is a measured and thoughtful treatment of an emotionally explosive subject.

The Queen's Throat
I didn't have time to read Wayne Koestenbaum's The Queen's Throat when it first appeared, in 1993, much as I wanted to. In the intervening years, this idiosyncratic examination of the psychology of opera queens, including that of the author himself, has established itself as a classic, of a strange sort. Not a history or a cultural study so much as a series of personal reflections, The Queen's Throat is not quite like anything else I have ever read.

Koestenbaum never falls into the trap of spouting "queer theory" academic clich?s, though he can out-Sontag even Sontag herself when he feels like it: "Experiencing the camp glow," he writes, "is a way of reversing one's abjection, and, by witnessing the depletion of cultural monuments, experiencing one's own power to fill degraded artifacts to the brim with meanings." How does he account for the gay obsession with divas? "Gay culture has perfected the art of mimicking a diva — of pretending, inside, to be divine — to help the stigmatized self imagine it is received, believed, and adored." As these citations indicate, The Queen's Throat is a dense piece of work — a little too dense, in fact, so the experience of reading it feels like eating too many rich sweets. But Koestenbaum's Montaigne-like determination to think his own thoughts and draw his own conclusions is impressive.