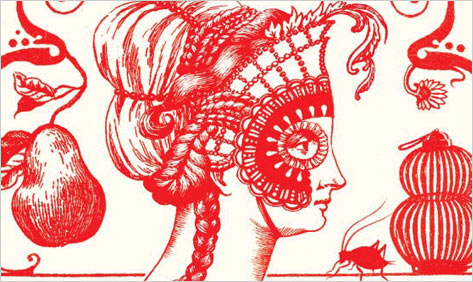 Noteverything elegant is expensive; not everything expensive is elegant. Making alist of costly, trashy things is easy: leopard-skin rugs, yachts withbulletproof glass, Jeff Koons's paintings, Monte Carlo. But discoveringelegance in modest or everyday sources, especially in the face of amultibillion-dollar luxury industry, takes more doing. That is the subject ofJessica Kerwin Jenkins's Encyclopedia of the Exquisite, a deceptively light survey of "uncommondelicacies, carefully selected." Kerwin Jenkins, formerly an editor at Wand now a writer for Vogue, wants us to do away with the "luxefantasy" (pushed in part by those same magazines, of course) and findwonder in the "obscure, exquisite, and twinkling" pleasures she hascompiled, alphabetically.
Many of Kerwin Jenkins'sfavorite things come from Europe, particularly France, in the eighteenth andnineteenth centuries. In the section entitled "Divan," she looks at "theillicit pleasures of reclining" through the novel Les LiaisonsDangereuses and the paintings of Manet—reclining, she says, isa "suspect" in-between state that suggests decadence or immorality.There is a hilarious entry on the pouf, the hairstyle favored by MarieAntoinette, who incorporated in her towering beehive accessories from sheavesof wheat to a replica of a battleship. (Kerwin Jenkins observes that, whileelegant, the pouf was a tough look to master: it made sleeping difficult, andthe hair could become infested with vermin, against which women wielded "ivoryscratching sticks designed to plunge into the hair-covered hives.") Andlike any good fashionista, the author demonstrates a complete reverence forJapan and its aesthetics: we get commentary on folding fans, the kimono, thetea ceremony, origami, the art of food arrangement, and even an in-depth lookat the 10th-century diarist Sei Shonagon, whose Pillow Book, a compendium of miscellaneous thoughts and listsof beautiful things, might be a model for Kerwin Jenkins's own work.
Yetother amusements are found closer to home. Busby Berkeley musicals are one: theauthor is enraptured by the dozens of chorines who "sprang from a sea ofwhite ostrich feathers wearing wispy feathered bikinis," and relieved thathis maximalist vision endures on the soundstages of Bollywood. In a section on "Heels"she reveals how Marilyn Monroe would cut a quarter-inch off one of her shoes togive her walk its signature hip-swaying allure. Some of the most charmingsections of the book aren't historical at all, but general takes on smallpleasures—pears, crickets, clouds, the color black. Best of all is the sectionon far niente, the Italian art of idleness; puritans may object, butKerwin Jenkins is right when she praises "the languorous sweetness ofdoing nothing at all."
It might be easy todismiss this book as a trifle, and matters aren't helped by rococoillustrations and blurbs on the dust jacket from such literary authorities asSarah Jessica Parker and the designer Michael Kors. But if the form of Encyclopediaof the Exquisite plays up its author's insouciance, the text itselfnevertheless carries a surprising authority. Entries can jump across centuriesand disciplines: the section on "Enthusiasm" harvests ideas fromHobbes, Diderot, Shelley, Blake, Wordsworth, and Germaine de Staël. And KerwinJenkins provides a 40-page bibliography, set in eye-straining type—this must bethe only book to cite both Harvard's Henry Louis Gates Jr. and Vogue'sDiana Vreeland.
It's a paradox: thegreatest pleasure of this ode to frivolity is the author's own diligence. Encyclopediaof the Exquisite may eulogize the pointless in this era of industry, ournoses pressed to grindstones or BlackBerries—and yet idleness, and the elegancethat can arise from that state, turn out to be very hard work.
---
Jason Farago is a writer and critic whose work has appeared in the Guardian, the London Review of Books, n+1, Dissent, Frieze, and other publications. Trained as an art historian, he has contributed to several exhibition catalogs on art since 1960. He recently returned to his hometown of New York following a long sojourn in London.