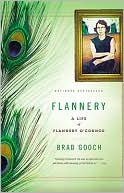 March 25:Flannery O'Connor was born on this day in 1925. Some critics attempt toclassify O'Connor as a "Southern Gothic" or "Southern Catholic"writer, but most just surrender themselves to her unique talent, as herbiographers surrender to her enjoyable idiosyncrasies:
Flannery O'Connor was farfrom normal, and we should all be grateful for that. In the early 1930s, at theage of 5, the bizarre little girl from Savannah, Ga., attracted the attentionof the Pathé newsreel company in New York because she had trained a chicken towalk backward. The company, which made uplifting newsreels for Depression-eramovie audiences, dispatched a filmmaker south to capture the antics of O'Connorand her unusual hen…. (from the NewStatesman review of Brad Gooch's recent Flannery:A Life of Flannery O'Connor)
O'Connor's letters areprized almost as much as her prose. They certainly reflect her lifelongtendency to go, if not exactly backwards, in unpredictable directions.
On the feminist movement:
I just never think, thatis never think of qualities which are specifically feminine or masculine. Idivide people into two classes: the Irksome and the Non-Irksome without regardto sex. Yes and there are the Medium Irksome and the Rare Irksome.
On the Beat Generation:
Certainly some revoltagainst our exaggerated materialism is long overdue. They seem to know a goodmany of the right things to run away from, but to lack any necessarydiscipline. They call themselves holy but holiness costs and so far as I cansee they pay nothing. It's true that grace is the free gift of God but in orderto put yourself in the way of being receptive to it you have to practiceself-denial. As long as the beat people abandon themselves to all sensationsatisfactions, on principle, you can't take them for anything but false mystics.A good look at St. John of the Cross makes them all look sick.
The cross which O'Connor had to bear over her last fifteen years waslupus. "I have enough energy to write with," she told Robert Lowell, "andas that is all I have any business doing anyhow, I can with one eye squintedtake it all as a blessing. What you have to measure out, you come to observemore closely, or so I tell myself."
---
Daybook is contributed by Steve King, who teaches in the English Department of Memorial University in St. John's, Newfoundland. His literary daybook began as a radio series syndicated nationally in Canada. He can be found online at todayinliterature.com.