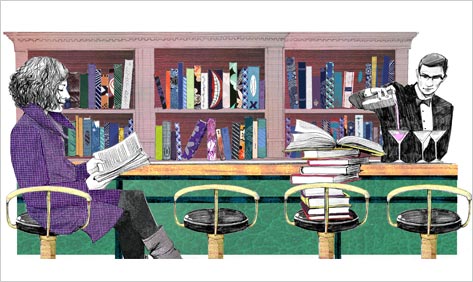 Part II: Even Lisbeth Salander Shops at Ikea
It's no coincidence that Swedish authors have produced two of literature's most heretical characters. Rebels! Misfits! Horse lifters! Girls! Lisbeth Salander, according to her creator Stieg Larsson, was meant to be a modern apparition of Pippi Longstocking, picaresque protagonist of the children's books written by Astrid Lindgren in the 1940s.
The thing to remember with these radical gals who answer to nobody and follow no rules is that they are, and must be, entirely fictional. Because whether you're a pierced and tattooed bisexual master hacker with a mohawk in Söder or a freckle-faced, crimson-pigtailed orphan in Villa Villekula, living with a monkey in a green sailor suit and a polka-dotted horse and possessing "the strength of ten policemen," there's one rule that supersedes all others in Sweden: Jantelagen*.
What does it mean? Fit in. You don't want to stick out! Even drop-dead rebel Lisbeth Salander shops at IKEA and eats Billy's Pan Pizza.
Jantelagen is a pattern of group behaviour towards individuals within Scandinavian communities, which negatively portrays and criticises individual achievement as inappropriate. — Wikipedia
Because of equality and fairness, there's something called "the Swedish standard" and it's pretty high. It means one can buy a Château Pétrus even in remotest Lapland. Liquor is sold only in state-run stores, popularly known as "Systemet." The System. The System closes weekdays at 6, closes at 1 P.M. on Saturday, and is closed Sundays. The most Swedish thing one can do is to go to Systemet on Saturday at Noon. You will take a "nummerlapp" (a number from the Turn-o-Matic) and wait calmly and patiently for your turn to insure a desperately rowdy weekend. Enterprising drunks outside the shop might sell you a low number for a few kronor. Otherwise, bring literature. Wait.
Even after years of psychotherapy, my most burning issue is a complete lack of patience. Seemingly, Sweden has been designed especially to help me learn this virtue. There are not enough people in Sweden, so even at better restaurants, salad, bread, and water are on the sideboard. Help yourself. I'm thinking, "No. Help me." The waitress, the cashier, the mechanic, the cleaning lady, and you are all equals. Not only is the customer not always right, the customer is just plain lucky to receive service of any kind. Tipping is nominal. There are no false smiles. You'll never hear, "Hey! I'm Pernilla! How're you folks doin'?" Never.
Beer is available in strong, medium, and light versions. The most oft-spoken words are "En stor stark." A big strong one.
My favorite Swedish words are "Undulaut" and "Förnuftig." "Undulaut" seems like it should be some punctuation but actually means "parakeet." "Förnuftig" means "clever," and it has always seemed like something made-up the Swedish chef would say.
In addition to a lot of baking, sewing, and indoor hockey, Sweden has an extremely active yogurt culture. Almost frantic. Choose between "filmjölk", kefir, and forty-five kinds of the stuff, which is available in Japanese style, Russian style, "farmer" style, among others, each in a stupefying array of flavors, including cloudberry. You can buy no-fat, low-fat, medium-low-fat, medium-fat, medium-high, and "call your cardiologist" versions of all these things as well as "long" filmjölk, whatever that is.
Swedes squeeze food out of tubes. Liver paté, mushroom/cheese spread, crab paste, and the infamous "Kalle's Kaviar" (lumpfish roe) are very popular. My favorite is black pepper/cognac. There are special gizmos in refrigerators to hold the tubes. They squirt this stuff onto knäckebröd (crispbread), which they store in the special cupboard above the fridge. For fourteen years.
Swedes also eat a lot of korv (hot dogs), usually with mos (mashed potatoes). When they speak English they invariably say "smashed potatoes," and I can't correct them; it's too charming. Then there are the ketchup udders. At every korv kiosk (hot dog stand) there is a shocking lineup of assorted mustards and ketchups, each in a long, squeezable rubber udder. There's no other way to describe them. Udders.
The most serious television news shows interview political figures with a charming and homey milieu, including flowered curtains, blond wood, colorful pillows, pastries, and coffee. Nightline, take note: Why not macaroons? And ask The Daily Show: wouldn't Michael Moore enjoy a freshly baked cinnamon bun? How about banana bread for Fareed Zakaria?
You can buy herring in any gas station. Many of my friends, both men and women, use "snus" — chewing tobacco, either loose or in small pouches. Tucked into their lower lips, this habit results in a distinctive, puffy demeanor. Loose candy is sold by the kilo, everywhere. Try some Body Parts, Salted Herring, Pirate Money, Squid, Coke Bottles, Fried Eggs, Pacifiers, Tongues, Rats, and Peppered Skeletons.
Whatever their sex lives may include, many Swedish people sleep in single beds. Together. Peculiar. But cozy. And they all travel with sheets and towels. You can try saying, "You don't need to bring your sheets and towels; I have everything here," but they will bring them all the same. They cannot be stopped.

If you go on a vacation with a Swede, watch out, because when exposed to direct sunlight, they tend to burst into flame.
On every street there are five or six hair "salonger." Most have frightening English names, like "Klipper Krazy." There is even a "Sweeney Todd" salon in Stockholm. With what seems like one salon for every twenty-five citizens, it's surprising that Swedes have a hair left on their heads.
Toilet paper is packaged in gigantic, 24 roll bales, wrapped in clear plastic with a handle on top. People run around in public with these, constantly and shamelessly.
Swedes don't talk, except at the movies.
Christmas means one thing. Festive Pigs!
Eye drops are illegal. Crazy glue is illegal. Hair dryers never get really hot. Sweden protects you.
I realized something. I gravitate toward this safety, cleanliness, and order with the rabid enthusiasm that most people look forward to an all-expenses-paid luxury vacation in the tropics and a big Lotto win.
Oscar Wilde said that simplicity is the last refuge of the complex. I could have taught him a thing or two.
Rosenwald created the animated App "David's Diary" together with David Sedaris and wrote All the Wrong People have Self -Esteem. Please visit www.rosenworld.com