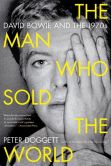 Ground control to major Tom,
Ground control to major Tom,
Take your protein pills and put your helmet on….
David Bowie introduced "Ziggy Stardust" at a concert at a London pub on this day in 1972. Bowie had earlier dabbled in the extraterrestrial — "Space Oddity," excerpted above, came out in 1969 — but the London concert, first stop on a seventeen-month international tour, debuted his Starman persona and showcased many new songs from The Rise and Fall of Ziggy Stardust and the Spiders from Mars, the concept album now included on most "greatest ever" lists.

In The Man Who Sold the World: David Bowie and the 1970s, Peter Doggett says that the Ziggy zeitgeist can be traced to a convergence of factors, including Bowie's "brief experience as a visualiser in an advertising agency," a genius for marketing, and his bull's-eye aim at the alienated times:
The creation of Ziggy Stardust in 1972 amounted to a conceptual art statement: rather than pursuing fame, as he had in the past, Bowie would act as if he were already famous beyond dispute, and present himself to the masses as an exotic creature from another planet. Ziggy would live outside the norms of earthly society: he would be male and female, gay and straight, human and alien, an eternal outsider who could act as a beacon for anyone who felt ostracised from the world around them. Aimed at a generation of adolescents emerging into an unsettling and fearful world, his hero could not help but become a superstar. Whereupon Bowie removed him from circulation, destroying the illusion that had made him famous.
---
Daybook is contributed by Steve King, who teaches in the English Department of Memorial University in St. John's, Newfoundland. His literary daybook began as a radio series syndicated nationally in Canada. He can be found online at todayinliterature.com.