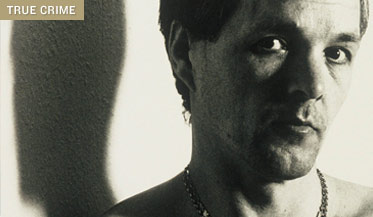 Henry David Thoreau once remarked that "the savage in man is never quite eradicated."

With his first book, John Leake has provided us with haunting proof that to disbelieve Thoreau is folly, and sometimes a calamitous blunder — as in the case of Austrian intellectuals who advocated for a convicted murderer's early release. Entering Hades: The Double Life of a Serial Killer is a clear-eyed, well-documented investigation of the fantastically deceptive life of the border-crossing psychopath Jack Unterweger.

I am an ex?bank robber who served nine years in prisons all across the country, so I have met my fair share of brazen criminals. But I have never heard about anyone with Jack Unterweger's unbridled audacity. Even seasoned ex-con friends of mine found it difficult to believe Jack's story wasn't fiction.

But Leake is more than convincing, having made good use of a mountain of source material: court transcripts, investigation reports, interviews with homicide detectives in three different countries, interviews with girlfriends, lovers, Jack's patron, advocates, critics, and, most of all, Jack's prodigious words, from his books, plays, magazine and radio interviews, letters, diaries, and his journalism notes. And, fortunately for the reader, Leake arranges the voluminous facts of the case into very brief chapters (91 in all), which creates the palpable tension of the classic "cat and mouse" thriller.

Entering Hades opens with the multiple murders that shocked Vienna in 1991, but the seeds of the tale are in the 1975 conviction of Jack Unterweger (referred to throughout as "Jack") in the brutal killing of 18-year-old Margret Schafer.

In prison, Jack completed correspondence courses on literature and narrative writing and received his highest grades in religion. He submitted children's stories to the country's venerable Austrian Broadcast Corporation (ORF), and over time about 50 of Jack's stories were broadcast by the network. Eight years after his incarceration, Jack's autobiographical novel was serialized in a prestigious literary magazine. This is how intellectuals became aware of him. Soon he was their poster boy of the successfully rehabilitated criminal, their cause c?l?bre.

Jack 's new advocates worked tirelessly to get him released. He had very influential people appealing to Austrian president Rudolf Kirchschlager to set the incarcerated writer free, including a Nobel Prize winner in literature, a senior ORF correspondent, and many ranking officials with the Justice Ministry's Section of Penal Executions, most surprisingly even the then-director, who visited Jack in prison. On the strength of these recommendations from elite citizens, Unterweger was released early from his life sentence, after serving only 15 years. He proceeded to write two books and produce two plays. By all accounts he was a successful freelance writer, with many female friends, a sports car, and a cottage in Italy.

Then, in 1991 — not long after Jack's return to freedom — a serial killer began murdering Viennese prostitutes. The press nicknamed the strangler the Vienna Woods Killer, because the women were mostly found in the Wienerwald, a large forested area in and around the Austrian capital.

Jack decided to cover the story for ORF. Three days after the second body was found, he interviewed Max Edelbacher, Vienna's chief of police, who told him there were no leads in the case. "It must be frustrating for an officer to, so to speak, run into a dead end," Jack said. Jack also interviewed frightened prostitutes who continued to work despite the risks. In one ORF broadcast he bluntly asked one sex worker: "How would you protect yourself?"

Jack eventually traveled to Los Angeles to report on the underbelly of that city. He rode along with an LAPD police officer and interviewed drug-addicted hookers — right around the time a new serial killer began murdering them.

By all accounts Jack was exceptionally charming during this sojourn, but his few pushy attempts to get his life story turned into a Hollywood film did not succeed. So he returned to Vienna with more ORF material.

Like Jean Valjean in Les Mis?rables, Jack had his obsessive Inspector Javert, a certain Inspector August Schenner of Salzburg. Schenner had suspected Jack of killing another woman before he went to prison for murdering Margret Schafer. The detective didn't have enough proof to charge Jack then, but years later, when the Vienna murders became a national story, Inspector Schenner was able to finally convince the Vienna police to take a serious look at Jack.

It was Vienna police chief Edelbacher — formerly one of Jack's interview subjects — who informed Jack that he was a suspect in the murders and asked him to account for his whereabouts on the nights the women were slain. These alibis proved to be patently false. Knowing that Jack had traveled to Los Angeles, Edelbacher contacted the LAPD to see if they had similar murders in their city while Jack was in town. Sure enough, there were three matches. As law enforcement agencies began comparing notes, one fact struck everyone: Jack had been present in six cities on the day prostitutes were murdered in similar fashion to the way he killed Margret Schafer in 1974 — and all his alibis were lies.

Though the police only had circumstantial evidence linking Jack to the murders, the decided nonetheless to try and convict him. But Jack was tipped off to his imminent arrest, so he fled to Miami. From Florida he claimed to his supporters that the police were under pressure to find the killer and had unjustly focused on him because of his past. He promised to clear his name from afar. But his life unraveled quickly from that point: arrested by U.S. marshals, Jack was extradited to Austria, where he was found guilty after a two-month trial. All told, Jack Unterweger is alleged to have killed 11 women: 3 in the U.S., 8 in Austria.

The story of Jack's chillingly despicable life is pregnant with ready-made themes for the writer's use. But rather than pontificating about a moral, Leake does a brilliant job of staying out of the way of his story, preferring to let the reader form his or her own judgments. He does not — as we might — philosophize about women who love the murderers of other women, or ponder the question of why leftists seem to readily romanticize violent prisoners. (Norman Mailer once petitioned, along with other prominent literati, for prison writer Jack Henry Abbott's early release. Abbott promptly killed a Puerto Rican waiter for a perceived slight.)

Jack Unterweger claimed that his self-analysis through writing freed him from the pressures of his childhood — namely, his mother's abandonment of him at age two and his subsequent abuse at the hands of his grandfather. Animated by wispy hope and a profound ignorance of complicated rage, Arno Pilgram, a university lecturer of criminal sociology, wrote to President Kirchschlager on Unterweger's behalf: "Insofar as personal development is evident in literature, Jack Unterweger has fully realized it."

Nietzsche optimistically observed that only where there are tombs are there resurrections. Jack's noble-hearted supporters embraced this virtuous notion. Unfortunately, in this case, they wrongly ignored the more durable truth — that in most crypts, one finds only decomposing corpses.