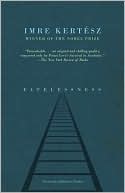 Imre Kertész, winner of the 2002 Nobel Prize, was born in Budapest on this day in 1929. The Nobel committee especially noted Kertész's Fateless (also translated as Fatelessness), his semi-autobiographical novel of a Jewish teenager's experiences in the Nazi death camps and after, trying to accommodate the "banality of evil" experienced there. In his Nobel interviews, Kertész tried to explain why he regarded himself as "lucky" to have been at Auschwitz: "I experienced my most radical moments of happiness in the concentration camp. You cannot imagine what it's like to be allowed to lie in the camp's hospital, or to have a 10-minute break from indescribable labor. To be very close to death is also a kind of happiness. Just surviving becomes the greatest freedom of all." In his Nobel speech, he spoke not of luck but of having "deep and tortuous ties with the millions who perished and who never knew mercy":
It is not so easy to be an exception. But if we were destined to be exceptions, we must make our peace with the absurd order of chance, which reigns over our lives with the whim of a death squad, exposing us to inhuman powers, monstrous tyrannies. And yet something very special happened while I was preparing this lecture, which in a way reassured me. One day I received a large brown envelope in the mail. It was sent to me by Doctor Volkhard Knigge, the director of the Buchenwald Memorial Center. He enclosed a small envelope with his congratulatory note, and described what was in the envelope, so, in case I didn't have the strength to look, I wouldn't have to. The envelope contained a copy of the original daily report on the camp's prisoners for February 18, 1945. In the "Abgänge", that is, the "Decrement" column, I learned about the death of Prisoner #64,921 — Imre Kertész, factory worker, born in 1927. The two false data: the year of my birth and my occupation were entered in the official registry when I was brought to Buchenwald. I had made myself two years older so I wouldn't be classified as a child, and had said worker rather than student to appear more useful to them. In short, I died once, so I could live. Perhaps that is my real story. If it is, I dedicate this work, born of a child's death, to the millions who died and to those who still remember them.
---
Daybook is contributed by Steve King, who teaches in the English Department of Memorial University in St. John's, Newfoundland. His literary daybook began as a radio series syndicated nationally in Canada. He can be found online at todayinliterature.com.