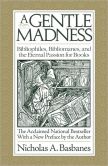 I seek, in the reading of books, only to please myself by an honest diversion; or, if I study, 'tis for no other science than what treats of the knowledge of myself, and instructs me how to die and how to live well.… If one book does not please me, I take another; and I never meddle with any, but at such times as I am weary of doing nothing. I care not much for new ones, because the old seem fuller and stronger….

–from the essay "On Books," by Michel de Montaigne, born on this day in 1533
Montaigne housed his 1,000-book library in his famous Tower or "solitarium," its rafters inscribed with some seventy-five quotations gathered from his reading life. In A Gentle Madness, his anecdotal history of "the Eternal Passion for Books," Nicholas A. Basbanes tries "to show that however bizarre and zealous collectors have been through the ages, so much of what we know about history, literature, and culture would be lost forever if not for the passion and dedication of these driven souls." Basbanes takes his title from Benjamin Franklin Thomas, who described his grandfather Isaiah Thomas, the eminent early American publisher and antiquarian, as a man "touched early by the gentlest of infirmities, bibliomania." In his first chapter, Basbanes profiles Stephen Blumberg, the notorious American "biblioklept" who took the gentle madness to record levels — some 23,000 rare books and documents stolen from North American libraries and museums.
---
Daybook is contributed by Steve King, who teaches in the English Department of Memorial University in St. John's, Newfoundland. His literary daybook began as a radio series syndicated nationally in Canada. He can be found online at todayinliterature.com.