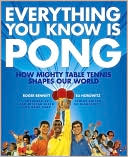 In my later teenage years, my aspirations toward becoming a writer were crystallized in large part by viewing a feature in the surrepetitiously obtained, newly minted issue of Playboy for November 1971. The article that struck me so forcefully was a profile of Henry Miller and his joyfully unrepentant and hedonistic lifestyle, earned after decades of hard knocks and bold prose, of which I then knew little and cared less. The most striking, even surreal photograph of the whole piece showed a fully clothed Miller, aged eighty, playing ping pong with a naked woman, identified as one Candice Thayer. Any hormone-stoked would-be male author could only dream of attaining such a vocational heaven, made all the more desirable by its supreme frivolity and the apparent absence of any actual writing chores.
Roger Bennett and Eli Horowitz mention Miller's proclivity for this indoor sport in their omnivorous history and cultural survey of all things ping-pongish, although amidst the otherwise splendid bounty of illustrations they neglect to reproduce Ms. Thayer's athletic form. No matter, for the image is still emblazoned on my cortex, and other readers will have plenty to peruse, both amusing text and nostalgic and surprising visuals.
Bennett and Horowitz offer a wistfully serious—or seriously wistful—take on this backwater sport with an undeniable image problem. (Horowitz works for McSweeney's, which has practically patented this type of postmodern irony that both warmly cherishes and coolly downplays the importance of any subject.) Explicitly employing a Forrest Gump tactic, they place ping pong with mock gravitas at the center of the twentieth century, finding salient outcrops of rubberized paddle and celluloid ball in politics, architecture, music, sex, work and play, just to name a few spheres. But the fact-finding by these two eccentric fans of the sport seems impeccable, turning up lots of fascinating and odd tidbits. Who knew that Alojzy Ehrlich, 1957 World Champ, was a Polish Holocaust survivor? Additionally, mini-essays by other contributors such as Jonathan Safran Foer and Nick Hornby enliven the proceedings.
I believe it's safe to say that no prior or future book will capture the spectrum of ping pong in greater detail than this charmingly obsessive work. But I would be remiss in my reviewer's duties if I did not cite one glaring omission, of particular cachet among Baby Boomers: the avalanche of ping pong balls unleashed by Mister Moose upon the dutchboy-haired Captain Kangaroo. Bennett and Horowitz, how could you forget this? Did Candice Thayer's sublime form drive the knowledge from your brains?
One final observation: Everything You Know Is Pong strikes me as a newish kind of book whose wide-ranging magpie composition would have been almost impossible (or at least much more laborious) prior to the internet-abetted archiving and proliferation of documents and images.
-PAUL DI FILIPPO
---

Paul Di Filippo's column The Speculator appears monthly in the Barnes & Noble Review. He is the author of several acclaimed novels and story collections, including Fractal Paisleys, Little Doors, Neutrino Drag, and Fuzzy Dice.