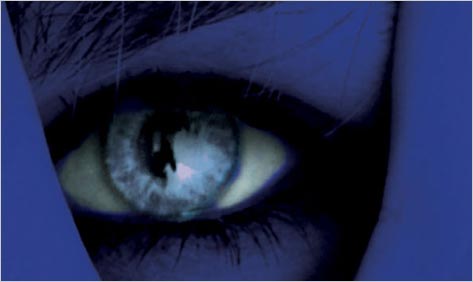 "Evil Eye," the first and most elegant of "Four Novellas of Love Gone Wrong" by Joyce Carol Oates, is a quaint California horror story narrated by a timid young bride who bears a strong resemblance to the anonymous heroine of Daphne du Maurier's Rebecca. Oates's Mariana, however, has a name at least, if not an identity. "Mariana had married a distinguished man," Oates writes. "….And now Mariana was Mrs. Austin Mohr; if she wished to be so designated." Like du Maurier's narrator, "…she'd known not to ask about the wife." The first wife that is, Mariana being the fourth. But when the first wife arrives for an overnight visit, even the oddly dulled Mariana is struck by the older woman's wounded, frantic personality — and by the fact that the she has one eye. "She glanced back at the empty socket which had been made up with cosmetics as well, black mascara outlining the socket's edge and an arched eyebrow penciled in above." Could Mariana be hallucinating? There is definitely a dead baby in the background, first child of the first marriage, and real blood flows before the night is out. Oates leaves Mariana staring dreamily at a handful of "…gleaming little pearl-pills…." Barbiturates. To ease her insomnia? Or to dispose of her tyrannical, ponytailed husband?

The dazed, menacing atmosphere that Oates creates in Evil Eye also permeates "So Near Anytime Always," a seemingly innocent depiction of teenage infatuation that is, predictably, nothing of the sort. "Of course it didn't occur to you, he might be older than he appeared," the narrator recalls. "…Because you were sixteen…. A not-pretty girl. A lonely girl. A desperate girl." Here love delivers a dead dog, a suicide, and finally, of course, an irreparably damaged young woman.

All of this seems like child's play, however, in comparison to the relentlessly feverish stories that complete this bleak volume. "The Execution," from the outset, imprisons us inside the mind of a killer. "Overhead a shredded-looking sky like old Kleenex. And a faint moon rising. Made him shiver!" Twenty-year-old frat boy Bart Hansen is about to enter his parents' house through the garage, take an axe off the wall, and climb the stairs to their bedroom. "He'd taken three Rits. He'd had just a few beers at the Delt-Sig house. The pizza, with slimy-salty anchovies, was feeling heavy in his gut…." The pungency of such details and the narrative's jittery cadence induce a queasiness that turns to nausea once the killing begins. And when the killing ends, the crime mutates into something even more repellent and overtly Oedipal.

Then comes "The Flatbed," which imprisons us inside the mind of a victim. We meet her as a beautiful young woman in bed with a man who is "…somewhat mysterious to her — not a man she knew well, except intimately." Her body will not admit this lover because it was violated years earlier when "…she was a shy child. Shy, and shrewd." Jagged shards of memory reveal the nature of the crime, and in a shocking twist, the perpetrator is finally punished, but at tremendous cost. This is familiar Oates territory, mapped with artistry and care; dark, bloody, and unforgiving.