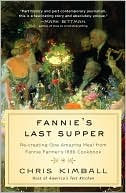 January 7: Thefirst "Fannie Farmer Cookbook," officially titled The Boston Cooking-School Cookbook, waspublished on this day in 1896. In her preface, Farmer graces her culinary guidewith a quotation from John Ruskin's 1866 book on mythology, Ethics of the Dust:
Cookery means the knowledge of Medea and of Circe and ofHelen and of the Queen of Sheba. It means the knowledge of all herbs and fruitsand balms and spices, and all that is healing and sweet in the fields andgroves and savory in meats. It means carefulness and inventiveness andwillingness and readiness of appliances. It means the economy of yourgrandmothers and the science of the modern chemist; it means much testing andno wasting; it means English thoroughness and French art and Arabianhospitality; and, in fine, it means that you are to be perfectly and alwaysladies—loaf givers.
As described in Christopher Kimball's just published andhighly praised Fannie's Last Supper,the loaf-giving could sometimes get elaborate. In the excerpt below, Kimballexplains his subtitle, "Re-creating One Amazing Meal from Fannie Farmer's1896 Cookbook":
And so, in 2007, with Fannie Farmer's original 1896 BostonCooking School cookbook in hand, using a twelve-course menu printed in the backof the book and an authentic Victorian coal cookstove installed in our 1859Boston townhouse, I set out on a two-year journey: to test, update, and masterthe cooking of Fannie Farmer's America, re-creating a high Victorian feast thatI hoped to serve in perfect succession to a dozen celebrity guests….
---
Daybook is contributed by Steve King, who teaches in the English Department of Memorial University in St. John's, Newfoundland. His literary daybook began as a radio series syndicated nationally in Canada. He can be found online at todayinliterature.com.