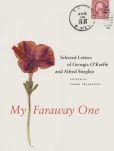 Georgia O'Keeffe was born on this day in 1887. When O'Keeffe made her first visit to New Mexico in 1929, her letters back to her husband, Alfred Stieglitz in New York, describe love at first sight:
I was quite terrified at the idea that I have only been here a week — only away from you a week — And that desert and mountains out there — I am quite afraid to let myself go out to it as one has to to work with anything — It is as though I fall into something from which there is no return — No road back —
O'Keeffe moved permanently to New Mexico in 1949. The 5,000 letters she wrote to Stieglitz over their three-decade relationship may read as "a love story pitched at the highest romantic level" (The New York Times), but as suggested by the title of My Faraway One, the recently published first volume of the couple's selected letters, it was a love that required distance. O'Keeffe's liked to call Stieglitz her "Faraway One," but in her letters she often used the term to describe her other loves, painting and New Mexico, and her aesthetic: "Such a beautiful – untouched lonely feeling place — such a fine part of what I call the 'faraway.' It is a place I have painted before but I wanted to do again — and even now I must do again."
---
Daybook is contributed by Steve King, who teaches in the English Department of Memorial University in St. John's, Newfoundland. His literary daybook began as a radio series syndicated nationally in Canada. He can be found online at todayinliterature.com.