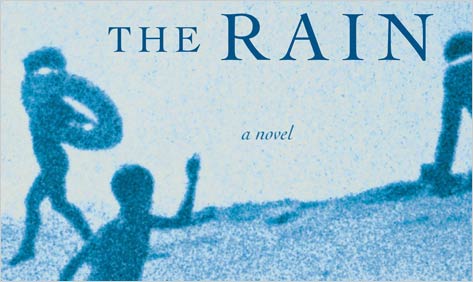 You know you're in for some heavy weather when a novel takes its title from the Book of Job: "Hath the rain a father? or who hath begotten the drops of dew?" Lily King's third novel, Father of the Rain, is a moving, impeccably written drama about a daughter's attachment to a destructive but often disarmingly charming father, and how that bond is pelted by the storms of divorce and alcoholism.
We meet her narrator, Daley Amory, in 1974, on her way back from buying a puppy, an eleventh birthday surprise from her father. King packs phenomenal depth into this tightly composed opening scene. Daley's description of her father singing in the car puts us on immediate notice how closely, vividly observed her tale will be: "He has a low voice scraped out by cigarettes and all the yelling he does." Against her father's wishes, Daley rejects a full-breed Newfoundland in favor of the ugliest mutt in the shop, a choice Gardiner Amory accepts only reluctantly: "'Well, it's her birthday,' he said slowly, with all the bitterness of a boy whose birthday it was not." We soon learn the reason for Daley's odd choice: her mother has told her, confidentially, that she is leaving her father the next day and hopes Daley will go with her. With remarkable maturity, Daley realizes that a beautiful dog "would make leaving even harder."
So, from page one, we are pulled into this vulnerable child's dilemma: a tug-of-war between her parents, and her inability to please them both at once. It's an old story, but King manages to keep it fresh with resonant details, from Gardiner's oft repeated, elitist twist on a refrain from Camelot, "I wonder what the poor people are doing today," to another, all-too-frequent twist: "cracking the paper on a new bottle of vodka."
King's two previous novels also involve the lasting repercussions of adolescent upheaval. The Pleasing Hour (1999) concerns a remarkably mature 17-year-old American who flees to Paris to work as an au pair after bearing a child for her sister, having failed to anticipate the distress this altruistic act would cause her. In The English Teacher (2005), a single mother, the eponymous teacher at an exclusive coastal New England boarding school, is haunted by a repressed trauma from her teens when she finally lets down her guard sixteen years later.
Father of the Rain covers 34 years, bookended by the summer of Richard Nixon's resignation and President Obama's election in 2008. The political markers are significant, spanning an age of cynical disenchantment with the Establishment to an augury of unexpected hope. The novel is set in an affluent East Coast seaside town, where the tennis club requires women to wear not just whites, but skirts. Daley attends an elite private school, and her father's life revolves around his dogs, his tennis game, his martinis, his swimming pool, his step-families, and his "New England WASP Museum" of a home. A Harvard-educated broker, Gardiner is racist, anti-Semitic, and deeply sexist. He blames his son's and daughter's liberalism and slovenly dress on their mother, whom he never forgives for leaving him.
King is skilled at zeroing in on the nitty-gritty dynamics of this intense father-daughter relationship, but it is her sympathetic ancillary characters and two strategic jumps in her narrative that add texture and save it from claustrophobia. These 18- and 15-year hiatuses, effectively accounted for with broad strokes, show how Daley gets on with her life by pulling away from her father's corrosive orbit. The breaks also serve to underscore how, just as a single drink is enough to send a recovered alcoholic reeling, an urgent phone call is enough to upset Daley's carefully constructed world and send her plunging back into the filial tangle.
The prose in Father of the Rain never soars to the heights of King's rose-tinged descriptions of Paris in The Pleasing Hour; what's on display here is her ability to capture with visceral complexity a primal yearning to be treated with care. When Daley finally achieves the distance to wonder about her father, "Was he only ever capable of feeling his own needs, his own pain?" the question highlights King's most impressive accomplishment in this beautifully structured story: she has us feeling for all of her characters.