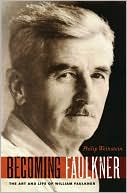 April 8: William Faulkner's The Wishing-Tree was published in The Saturday Evening Post on this day in 1967, three days before its book publication. The Wishing-Tree is Faulkner's only children's story, and it is little known, but behind it is a tale which has its own charm, in the style of his RAF fibs and other fabrications.
Though the magazine publication was its first appearance to a general readership, The Wishing-Tree was written decades earlier, in 1927 or shortly before. At the time of writing, Faulkner was in pursuit of his childhood sweetheart, Estelle Oldham. She had married Cornell Franklin in 1918, but their marriage was not doing well, and Faulkner was hopeful that Estelle might divorce and eventually marry him — as she did in 1929. In aid of his cause, Faulkner presented a handmade copy of The Wishing-Tree to Estelle's daughter, Victoria Franklin, for her eighth birthday. At about the same time he gave Victoria her copy, inscribing it to convey that the story was written just for her, Faulkner gave another copy to the daughter of one of his instructors at Ole Miss, inscribing it in similar fashion. The double-gift was so well received (and presumably so undetected) that, years later, Faulkner decided to give it twice again. He borrowed the Ole Miss copy back, typed it up in slightly different form, and gave it as Christmas gifts to his godson and to the daughter of his friend, the actress Ruth Ford — each time leading the new recipients to believe that the story was written especially for them.
Scholars have examined Faulkner's various handmade editions of his story, noting that the version which he gave to Victoria Franklin omitted a passage contained in the others. The speculation is that the wishful, would-be groom regarded the following as not in his best interests:
"I don't believe I'll marry any more," the little old man said. "Even if I could, I mean."

"All husbands thinks dat," Alice's husband said. "De trouble is, convincin' de womenfolks. De man what's got any business sayin' he don't think he'll marry no mo' is dead."
---
Daybook is contributed by Steve King, who teaches in the English Department of Memorial University in St. John's, Newfoundland. His literary daybook began as a radio series syndicated nationally in Canada. He can be found online at todayinliterature.com.