The author of The Middlesteins selects her favorite reading of 2012.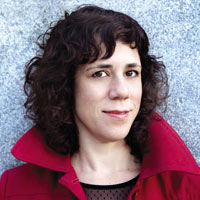 The heart of Jami Attenberg's insightful and critically hailed work of comic fiction The Middlesteins is a Midwestern Jewish family fracturing under the weight of neurosis and obsession; its genius is the author's deep compassion for her characters.
When we asked her if she would pick three of her favorite reads from 2012, the novelist told us "The colder weather makes me crave a little levity right now, so I can only think of the funny books I read this year." Below, her choices.
See all books by Jami Attenberg
---
By Maria Semple
"Where'd You Go, Bernadette was the book that made me laugh out loud the most. This epistolary novel was steeped in charm, and somehow both light and dark at the same time."
---
By Sheila Heti
"Another funny book was Sheila Heti's crackling How Should A Person Be? Heti took (fictional) self-deprecation to new heights. "
---
By Gillian Flynn
"I know the bestseller Gone Girl doesn't need an ounce of support from me, but that book was as sharp and witty as they come".