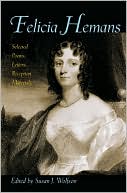 Felicia Hemans was born on this day in 1793. Hemans was widely read in her native Britain, and she became especially known in the U. S. for "The Landing of the Pilgrim Fathers in New England," which became a second national anthem and a staple of the elementary school curriculum. Her poem imagines the pilgrims' voyage as storm-tossed and dream-driven, their goal much greater than gold or glory:
…Amidst the storm they sang,
And the stars heard, and the sea;
And the sounding aisles of the dim woods rang
To the anthem of the free!
The scholars note that Hemans was all but forced into her domestic themes and accessible style by gender and market expectations, and they find a condescending note in some elegiac lines which Wordsworth composed upon Hemans's early death, praising her "Sweet as the spring" verse. There seems no ambiguity in what Byron had to say about her in one of his letters: "I do not detest Mrs. Heman, [sic] but if [she] knit blue stockings instead of wearing them it would be better." The 19th century had a go at her, too: immediately below is an excerpt from Hemans's "The Homes of England"; below that are lines from Noel Coward's "Stately Homes of England":
The stately Homes of England,
How beautiful they stand!
Amidst their tall ancestral trees,
O'er all the pleasant land.
The deer across their greensward bound
Thro' shade and sunny gleam,
And the swan glides past them with the sound
Of some rejoicing stream.

The stately homes of England how beautiful they stand,
To prove the upper classes have still the upper hand;
Tho' the fact they have to be rebuilt
And frequently mortgag'd to the hilt
Is inclin'd to take the gilt off the gingerbread,
And certainly damps the fun,
Of the eldest son.
But still we won't be beaten,
We'll scrimp and screw and save,
The playing fields of Eton have made us frightfully brave
And tho' if the Van Dykes have to go
And we pawn the Bechstein grand
We'll stand by the stately homes of England
---
Daybook is contributed by Steve King, who teaches in the English Department of Memorial University in St. John's, Newfoundland. His literary daybook began as a radio series syndicated nationally in Canada. He can be found online at todayinliterature.com.