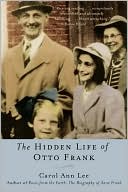 Anne Frank's family and the others hiding with them were discovered in their Amsterdam hideout on this day in 1944. Although immediately placed in a local detention center, the family remained together and hopeful, buoyed by news of the liberation of Paris and large areas of France. But at evening roll call on September 2nd they learned that they would be among those forced aboard the cattle cars that became the sixty-eighth and last train to Auschwitz. Half of the 1,000 prisoners were killed or sent for medical experimentation immediately upon their arrival. All of the Franks survived the initial sorting, but only Anne's father, Otto, would survive the next six months—Anne hanging on at Auschwitz and then Bergen-Belsen until just a few weeks before the liberation of the camps.

Two new books have added a number of details and provocative speculations to the story of the Franks. Although written in novelized form, Treasures from the Attic (2011) incorporates information from some 6,000 recently discovered item: documents and photos found by Buddy Elias, a cousin of Anne's and the last surviving relative of the Frank family. Carol Ann Lee's controversial biography The Hidden Life of Otto Frank(2003) begins in novelized form, recreating the moment when, according to Lee, a young Dutch collaborator began to blackmail Frank, forcing the family into hiding:
Otto Frank sits down behind his desk. The poisonous letter rests, accusingly, on the green blotter. Behind him, through the long window onto the courtyard, the chestnut tree is beginning to grow leaves. Next week he will see Tonny Ahlers again, and shortly afterward, he will begin to make preparations to go into hiding with his wife, Edith, and his beloved daughters, Margot and Anne. A year from now they will be living, like hunted animals, in the annex above the office.
On his orderly desk, the date on the calendar reads April 18, 1941: the date on which Otto Frank was led into an enigma that has never been documented, and into a maze of blackmail, terror—and betrayal.
Lee also claims that Ahlers was the one who eventually betrayed the Franks to the Nazis and that he continued to blackmail Otto Frank right up until his death in 1980. Allegedly, Frank wanted to hide the fact that his food-and-spice business had been selling to the German army.
---
Daybook is contributed by Steve King, who teaches in the English Department of Memorial University in St. John's, Newfoundland. His literary daybook began as a radio series syndicated nationally in Canada. He can be found online at todayinliterature.com.