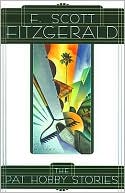 December 21: F.Scott Fitzgerald died in Los Angeles on this day in 1940. Over his last year orso, Fitzgerald published seventeen "Pat Hobby" stories in Esquire magazine which were latercollected in book form in 1962. The stories feature a screenwriter who inhabitsa circle of Hollywood hell not many rungs below their author's. Too broke tohave any choice, screenwriter Hobby spends his days adding a line of dialoguehere, schmoozing his way to a drink or a dame there, and trying to avoid beingbooted even lower down the hack writer list.
During the last months, in time salvaged from the movieproducers and the bills, Fitzgerald also worked with more purpose and hope. ButThe Last Tycoon went unfinished, andnot a few stories went unpublished—in Fitzgerald's view, because they did notfit either the Cracked- or Washed-Up themes, the only ones he was now allowed.The following is from a February 7, 1940 letter to his Esquire editor; Fitzgerald is trying to pitch a story which he waskeen on but which the magazine was reluctant to publish while they were runningthe Pat Hobby series:
Why don't you publish under a pseudonym—say, John Darcy? I'mawfully tired of being Scott Fitzgerald anyhow, as there doesn't seem to be somuch money in it, and I'd like to find out if people read me just because I amScott Fitzgerald or, what is more likely, don't read me for the same reason. Inother words, it would fascinate me to have one of my stories stand on its ownmerits completely and see if there is a response…. If the idea interests you Imight invent a fictitious personality for Mr. Darcy. My ambition would be toget a fan letter from my own daughter.
In the opening paragraphs of "No Harm Trying," thePat Hobby story published in Esquire themonth before Fitzgerald's death, we are re-introduced to the screenwriter-hero,who sits in his apartment above a delicatessen, combing the newspapers insearch of marketable story ideas, and remembering when:
Pat was at "the end of his resources"—though thisterm is too ominous to describe a fairly usual condition in his life. He was anold-timer in pictures; he had once known sumptuous living, but for the past tenyears jobs had been hard to hold—harder to hold than glasses.

"Think of it," he often mourned. "Only awriter—at forty-nine."
---
Daybook is contributed by Steve King, who teaches in the English Department of Memorial University in St. John's, Newfoundland. His literary daybook began as a radio series syndicated nationally in Canada. He can be found online at todayinliterature.com.