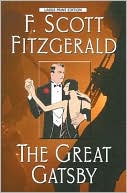 April 10: F. Scott Fitzgerald's The Great Gatsby was published on this day in 1925. On the same day, Fitzgerald wrote to his editor Max Perkins that he was "overcome with fears and forebodings" for the book's reception: "Supposing women didn't like the book because it has no important woman in it, and critics didn't like it because it dealt with the rich and contained no peasants borrowed out of Tess [of the D'Urbervilles] in it and set to work in Idaho?" Other letters written throughout the month are truly despairing — that the critics are stupid or capricious, that the poor sales will require the writing of more magazine trash, or worse:
…I'm going to quit, come home, go to Hollywood and learn the movie business. I can't reduce our scale of living and I can't stand this financial insecurity. Anyhow there's no point in trying to be an artist if you can't do your best. I had my chance back in 1920 to start my life on a sensible scale and I lost it and so I'll have to pay the penalty. Then perhaps at 40 I can start writing again….
The Great Gatsby was well reviewed, and greatly respected by the literary community, but it never caught on with the public. In 1927, two years after publication, Fitzgerald got only $153 in royalties; two years after that only $32; by the last year of his life, 1940, only forty copies of all his books were sold, bringing him $13.13. There could only have been irony to the phrase in his original will which stated that he was to be given a funeral "according to my station"; still, to be sure, Fitzgerald changed it to read "the cheapest funeral possible." It was only thirty years later, with the Fitzgerald revival well underway and The Great Gatsby given its due as the American classic Fitzgerald knew it to be, that he was reburied under the gravestone bearing his novel's last, famous lines: "So we beat on, boats against the current, borne back ceaselessly into the past."
---
Daybook is contributed by Steve King, who teaches in the English Department of Memorial University in St. John's, Newfoundland. His literary daybook began as a radio series syndicated nationally in Canada. He can be found online at todayinliterature.com.