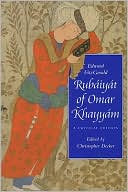 March 31: On this day in 1809 Edward Fitzgerald was born, and on this day in 1859 his "free translation" of The Rubaiyat of Omar Khayyam was published. Fitzgerald's version of the 12th-century Persian quatrains — "rubaiyat" means "quatrain" — became one of the most popular works of the 19th century and one of the best-selling books of poetry ever. Though Khayyam was a respected philosopher, astronomer, and mathematician — his work on cubic equations and binomial theory was especially influential — his poetry was censured by the Muslim authorities, who objected to its carpe diem spirit and religious skepticism. Some say that the poem's irreligion had an impact in Victorian England equivalent to Darwin's The Origin of Species, also published in 1859. Thomas Hardy so enjoyed the poetic atheism that he had one of Fitzgerald's quatrains read to him on his deathbed:
Oh, Thou, who Man of baser Earth didst make,

And who with Eden didst devise the Snake;

For all the Sin wherewith the Face of Man

Is blacken'd, Man's Forgiveness give — and take!
The popularity of Fitzgerald's translation has provoked many parodies and spin-offs, with every age or agenda making a contribution — for example, The Rubaiyat of Ohow Dryyam during the Prohibition years. Below is Fitzgerald's seventh quatrain; immediately following is the seventh quatrain from Gelett Burgess's peppery critique of turn-of-the-century publishing, The Rubaiyat of Omar Cayenne (1904); following that is the seventh quatrain from Strugnell's Rubaiyat, a portrait of modern mundanity by the British poet, Wendy Cope:
Come, fill the Cup, and in the fire of Spring

Your Winter garment of Repentance fling;

The Bird of Time has but a little way

To flutter—and the Bird is on the wing.

Come, fill the Purse, to Publishers, this Spring,

Your Manuscripts of paltry Passion bring;

The New York Times has oft a little Way

Of praising—let the Times your praises sing.

Another Pint! Come, loosen up, have Fun!

Fling off your Hang-ups and enjoy the Sun:

Time's Spacecraft all too soon will carry you

Away—and Lo! the Countdown has begun.
---
Daybook is contributed by Steve King, who teaches in the English Department of Memorial University in St. John's, Newfoundland. His literary daybook began as a radio series syndicated nationally in Canada. He can be found online at todayinliterature.com.