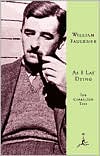 William Faulkner's As I Lay Dying was published on this day in 1930; his Light in August was published on this day in 1932; and The Sound and the Fury was published on October 7, 1929. Adding Sartoris (the first Yoknapatawpha book, also published in 1929) and Sanctuary (1931) to the list, these five novels over three and a half years represent one of the most remarkable bursts in twentieth-century literature and form the foundation of Faulkner's fame. Though not his fortune: shortly after completing Light in August, the last of the books, Faulkner was so broke that one of the local stores refused to take his five-dollar check, and he was soon on a train for Hollywood, this the first stint of the screenwriting work he loathed.

Faulkner's working title for Light in August was "Dark House." According to an anecdote included in several biographies, Faulkner turned his title around based on a remark from his wife, the two of them sitting on a porch at their Rowan Oak home (just purchased) one evening, Estelle commenting on the unusual quality of the light on summer evenings in the South. Joseph Blotner, author of the definitive, two-volume Faulkner, includes another anecdote regarding the novel, this one an indication that life at Rowan Oak was sometimes cloudy:

By mid-March he was nearing the end of the revision and typing. The last section went smoothly, and on page 527 the typescript came to an end. After final checking he prepared to take it to Mac Reed at the drugstore for wrapping. Most of the strain of completing the work was now behind him, but it may have been this time that he would refer to, years later, when he described a scene with his wife. She was so angry with him, he said, that she threw the manuscript of Light in August out of the car, and he had to stop and go back and pick up the scattered pages.
---
Daybook is contributed by Steve King, who teaches in the English Department of Memorial University in St. John's, Newfoundland. His literary daybook began as a radio series syndicated nationally in Canada. He can be found online at todayinliterature.com.