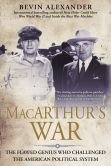 General Douglas MacArthur left Corregidor on this day in 1942. After escaping the Japanese blockade, MacArthur arrived several days later in Australia, where he delivered his famous "I shall return" pledge. It would take two and a half years for MacArthur to keep his promise, and the events of the ensuing U.S. war in the Pacific — massive surrender and the Bataan Death March, the costly valor of Midway, Okinawa, and Guadalcanal — would test and shape the nation.

Most portraits of MacArthur's elusive personality follow the one given in the opening paragraph of William Manchester's 1978 classic, American Caesar:
He was a great thundering paradox of a man, noble and ignoble, inspiring and outrageous, arrogant and shy, the best of men and the worst of men, the most protean, most ridiculous, and most sublime. No more baffling, exasperating soldier ever wore a uniform. Flamboyant, imperious, and apocalyptic, he carried the plumage of a flamingo, could not acknowledge errors, and tried to cover up his mistakes with sly, childish tricks. Yet he was also endowed with great personal charm, a will of iron, and a soaring intellect. Unquestionably he was the most gifted man-at-arms this nation has produced.
Bevin Alexander's recent MacArthur's War: The Flawed Genius Who Challenged the American Political System focuses on the clash between MacArthur and President Truman over the tactics designed to win the Korean War and rout communism. MacArthur's hawkish views provoked, says Alexander, "the most spectacular collision between military and civil power ever to occur in the United States." And when the collision ended with MacArthur's dismissal as commander of UN and US forces in Korea, he was ready with another famous line: "Old soldiers never die; they only fade away."
---
Daybook is contributed by Steve King, who teaches in the English Department of Memorial University in St. John's, Newfoundland. His literary daybook began as a radio series syndicated nationally in Canada. He can be found online at todayinliterature.com.