Dip into a fresh stream of words and images.
---
By Izaak Walton and Charles Cotton
First published in 1653, Walton's prose and poetry not only celebrate the art and culture of fishing — what he called "The Contemplative Man's Recreation" — but also provide encyclopedic instructions on how to catch and prepare various species of fish. Colored by Walton's 17th-century vocabulary, it's a masterwork of the English language in its own right, as mysterious and elegant as fly casting itself.
---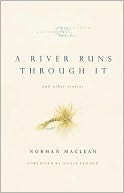 A River Runs Through It and Other Stories
By Norman MacLean
Based on Maclean's own experiences, this classic three-story collection chronicles life on Montana's Big Blackfoot River. The title tale, famously adapted by Robert Redford for the big screen, contains some of the most evocative descriptions of nature in American prose, recounting Maclean's final attempt to save his hell-raising younger brother from ruin by taking him back to the hobby they shared as boys.
---

Flywater: Fly-Fishing Rivers of the West
By Grant McClintock
The most skilled anglers on earth can be found in the rivers, lakes, creeks, and springs of the American West. Revisiting the world of fly fishing he chronicled 15 years ago in the book's first edition, McClintock captures the sport's serene backdrops in sumptuous photographs and offers some insight into why its adherents are so dogged in their worship.
---
Death, Taxes, and Leaky Waders: A John Gierach Fly-Fishing Treasury
By John Gierach
Outdoors magazine writer Gierach brings together 40 of his favorite big fish stories. The Colorado-based angler travels from Scotland to Texas in search of the perfect fishing hole, sharing every hilarious observation the journey engenders. Some fishing books are overwrought and reverential. This isn't one of them.
---
By Ernest Hemingway
Ernest Hemingway loved to fish. His devotion to the sport as more than a pastime is reflected in many of his enduring works, perhaps most notably in The Old Man and the Sea. This collection showcases the evolution of the Nobel laureate's superlative writing on the subject, from the quintessential Hemingway story "Big Two-Hearted River" to essays for the Toronto Star and Esquire.