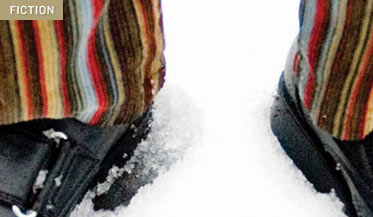 Among the typefaces mentioned in Flying to America, a new collection of short stories by Donald Barthelme, are

Perpetua
Baskerville
De Vinne
Palatino
Craw
Title Shaded Litho
Boston Breton Extra Condensed
Clearface Heavy
Egmont Light Italic

and there may be others. I cite them here not to demonstrate Barthelme's impressive knowledge of typography (although it was impressive for most of his literary career, which began with his first published story in 1959 and ended with his death, of cancer, 40 years later: an era when typography was still esoteric), but to suggest that letters figured prominently among the things Barthelme loved. Not sentences, beloved of Gertrude Stein; not words, of which Flaubert was fond, but letters: their thicknesses and thinnesses, their curves.

Sentences make sense; words have associations. What do letters have? Lines, loops, bulges. The pleasure of the letter belongs less to the mind than to the eye, or, if the letter's printed big enough, perhaps to the finger. Consider the following sentence from "Presents," a story Barthelme published in Penthouse in 1977, which is reprinted in Flying to America:


Behind the dogs, with their backs to us, a row of naked women kneeling, sitting on their heels, their buttocks perfect eggs or O's-OOOOOOOOOOOOO.


This is as graphic as literature gets: the letters on the page become desirable forms, more perfect in their way than the buttocks pictured elsewhere in the magazine. (One wonders what the copy editors at Penthouse made of the 13th O, however: it is hard to explain.) It is a commonplace to talk about a writer's "love of language," but love is not the word for what is happening here. "Presents" invites the reader to fall in lust with language, to enter into an unnatural relationship with the printed page.

To someone (me) who read a lot of Barthelme a long time ago, the lustiness of the stories in Flying to America came as a mild surprise. There are so many stories about men and women hooking up, so many naked girls! Not only the pornotypographic "Presents," but "Paradise Before the Egg" (originally published in Esquire), about Simon, a 53-year-old man charged with the sexual satisfaction of three young women ("He's not potent more than forty-two percent of the time," this one begins). "Flying to America," the title story, brings an unnamed experimental filmmaker of a certain age into the zone of attraction of one Perpetua (named for the typeface by Eric Gill), whose breasts are on display at the bottom of the first page. Even "Florence Green Is 81," which collages Vietnam-era politics and the education of writers, among other things, stops to reflect, "Oh, there is nothing better than intelligent conversation except thrashing about in bed with a naked girl and Egmont Light Italic."

So we come to the question: does Flying to America, which collects 42 stories that have gone out of print, along with three that have never been published before, represent a different Donald Barthelme than the one responsible for the canonical Sixty Stories and Forty Stories, The Dead Father, The King, and so on? A slightly irregular Barthelme, perhaps? Yes and no. The Barthelme on display here is closer to the frontier of his subjects than the Barthelme of those books: more nakedly erotic in some stories, and farther in others from the readily understood. But if you are tempted to suspect that there is a good reason why this volume was not published during the author's lifetime — if you fear that we are dealing here with remainders, with second-best stuff — be reassured. It's not so.

First of all, many of the stories collected here were included in the books Barthelme published as he went along; they just didn't make his top 100. Second, the stories are good. The worst thing you could say about them is that they remind you of other stories by Donald Barthelme. "Pages from the Annual Report," from 1959, is an antic ancestor of the chilling 1968 "Game"; "Tales of the Swedish Army" has the same arc (mysterious phenomenon shows up in the city and goes away again, just as mysteriously as it came, taking with it your heart) as the earlier "The Balloon."

Actually, one of the interesting things you learn from this collection is that Barthelme consciously recycled themes and even paragraphs of his own work. The helpful notes by the volume's editor, Kim Herzinger, observe that the story "Flying to America," published in The New Yorker in 1971, drew from a "Notes and Comment" by Barthelme, published a year earlier in the same magazine, and that sections of the story were also part of the story "A Film," which became "The Film" in Sixty Stories. And anyone who has ever tried to revise a story of their own will be pleased to see that a passage in "The Bed" is reprised in "The Sea of Hesitation" almost verbatim, but not quite: Barthelme has gone back and taken out a few unnecessary words.

Or, given that "The Bed" was published in 1973 and "The Sea of Hesitation" in 1972, was it the other way around? This brings me to the only criticism I'd like to make of Flying to America: Herzinger has put the stories in neither chronological nor thematic order, which may give the reader a more varied experience (contrast, if you will, the difficulty of listening to all of Tom Waits's uncollected sad songs on one CD of the three-disc Orphans), but makes it hard to trace connections between the stories. Interested readers will have to sleuth.

Further exploration of the notes to Flying to America reveals another interesting fact: for a number of years, in the early 1970s, Donald Barthelme completely dominated the fiction section of The New Yorker. His stories were published in

May 29, 1971
June 12, 1971
August 20, 1971
September 11, 1971
September 9, 1972
November 11, 1972
October 21, 1972
December 30, 1972
July 23, 1973
March 18, 1974
July 15, 1974
October 14, 1974

and this, again, is only a partial list. Nothing like this run could happen today, in The New Yorker or probably anywhere else, and it makes you wonder, as Dave Eggers asks in his introduction to Forty Stories, what would happen to Barthelme if he were a new writer and not a dead one? Would he enjoy the same success? Probably not, Eggers concludes, and he is probably right; but, fortunately, the question is irrelevant. Barthelme has already made it over the hump, thank goodness, and here are 45 more stories to prove it.