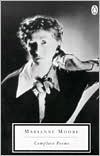 December 9: On this day in 1955, American poet Marianne Moore submitted "Utopian Turtletop" as her last effort to name the new car about to be launched by the Ford Motor Company. Her contracted labor had begun six weeks earlier, at the behest of David Wallace, the sociology Ph.D. who had been hired by Ford to conduct the search, and who had written to Moore with his despair:
Over the past few weeks this office has confected a list of three hundred-odd candidates which, it pains me to relate, are characterized by an embarrassing pedestrianism. We are miles short of our ambition. And so we are seeking the help of one who knows more about this sort of magic than we….
Moore was almost a cult figure in America during the 50s and 60s, known as much for her love of baseball and prize fights as for her Pulitzer Prize-winning poetry. What Ford wanted was a car name that "flashes a dramatically desirable picture in people's minds," from a woman who seemed to know mainstream America. What they got was "Anticipator," "Thunder Crester," "Pastelogram," "Intelligent Whale," "The Resilient Bullet," "Mongoose Civique," "Andante con Moto," "Varsity Stroke" and others such.
The Moore-mobile was not to be, and Ford turned unhappily back to its corporate ways. Every day the appointed panel of executives would assemble in the appointed projection room to review some of the 18,000 names forwarded by the appointed ad agency. Each contender flashed across the screen in six-inch high letters, to oblivion unless someone shouted, "Stop!" and gave reasons for their enthusiasm. This got the list to 6,000 and then 400 and then 16, though perhaps the process went more quickly than it should have. Wallace was so suspicious after several sessions that had gone by without a single "Stop!" that he flashed BUICK across the screen, again to no response. When he turned on the lights most people were dozing. In the end, none of the committee's final contenders made the grade either, leaving Ford where they started – with the "Edsel."
Moore returned to poetry, and baseball – though "Baseball & Writing," one poetic homage to the sport, seems at times to speak to the ad-man's game:
… Pitching is a large subject.

Your arm, too true at first, can learn to

catch your corners….
---
Daybook is contributed by Steve King, who teaches in the English Department of Memorial University in St. John's, Newfoundland. His literary daybook began as a radio series syndicated nationally in Canada. He can be found online at todayinliterature.com.