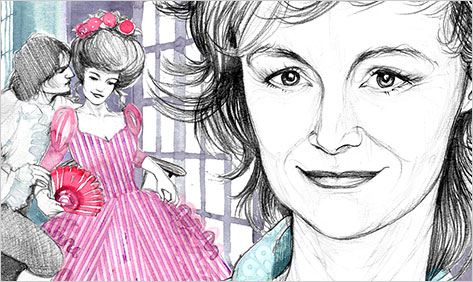 My husband came to the U.S. for graduate school, thinking that he would frolic in America briefly before returning to his home in Italy. Then, as he likes to say with a certain deadpan humor, he met me. Decades later, he's still here. We do our best to meld the two cultures: Santa Claus shows up, and La Befana flies in the window a few days later. Yet it hasn't been an easy assimilation; it's painful to lose your primary culture, and he still erupts whenever our teenage son refuses to speak Italian, for example. Blending two cultures in one marriage is not easy.

The romances I've gathered for this month's column shape love as the ingredient that abets cultural assimilation. Tellingly, in none of these novels does the dominant culture remain so: melting doesn't cause the evaporation of the alien culture, but the celebration of it.

Mary Jo Putney's Loving a Lost Lord is a tour de force exploration of cultural displacement and its resulting loss of self, a novel in which amnesia acts as the symbol of cultural loss. The novel opens with an adventuresome heroine, Mariah Clarke, who is giddy with thankfulness when a strange man washes up on the shore next to her manor just in time to save her from the unsavory attentions of the loathsome Mr. Burke. Without a second thought about her visitor's dark skin (this lack of hesitation is revelatory of Mariah's open personality), she informs her memory-less guest that he is, in fact, her husband.

Mariah names him Adam after the first man, but it turns out to be his real name. Forcibly taken from his Indian mother as a young boy, Adam, Duke of Ashton, was brought to England to learn the responsibilities of the title he would inherit. He grew up in a delicate juggling act, grieving the necessity to hide his dedication to Hindu religion and meditation even as he learned to dress and speak like an English lord. It's only when he finds himself in Mariah's house that he's able to sort through the various influences in his life.

Adam is Adam: the man who left Paradise and experienced (presumably) the kind of wrenching grief and dislocation that can only be assuaged by love. Mariah knits together the broken parts of his life by learning to meditate as she learns to be a duchess. Putney's Loving a Lost Lord is an enchanting, brilliant novel about the power of love to heal a divided self.

Samantha James's One Moonlit Night tackles similar questions of culture and birth by pairing a vicar's daughter, Olivia Sherwood, with the illegitimate, gypsy-born Earl of Ravenwood. Legitimized by his father, who could bear no more children after a gypsy's curse, Dominic is in the same situation as Adam. Taken from his mother and trained to his position, he is now an earl, and yet his culture and his past remain definitive even in his label, the "Gypsy Earl." That wrenching sense of dislocation is key to the passion between Dominic and Olivia. Like Mariah, she views his "sun-kissed skin" as a blessing, not a curse. And like Mariah, she falls with joy into Romany life, dancing to a wild, pagan beat never heard in the vicarage.

Jade Lee's hero in The Dragon Earl is white, but raised in a foreign culture, that of China. Jacob Cato, Earl of Warhaven, lost his entire family to murder as a very young boy; orphaned in China, he learned to survive by training to be a monk at the Xi Lin Temple. He arrives in England just in time to interrupt the marriage of the man who now holds his title. The bride-to-be, Evelyn, becomes symbolic of the England he both wants and dislikes.

Like the other two novels, The Dragon Earl relishes the clash between England and an alien culture. Jacob is torn, as Evelyn points out: "You are not a monk, and you are not an earl. You are not English and yet you are not Chinese, either." It is Evelyn who, having diagnosed the problem, cures it — with her delight in learning about Buddhism, for example.

As with the previous two novels, it is only when the torn hero encounters a woman who approaches his "other" culture with joy that he himself is able to do the same. Like Dominic and Adam, Jacob must accept the pain of the past, and what he lost there, before he has a future with his wife. Interestingly, while the first two novels embrace the dominant culture of England, the outcome here is somewhat more daring. This is a unique, deeply emotional story that will have you reading into the wee hours.

Beverly Jenkins's Night Song tackles a different sort of cultural displacement: that which happened forcibly to Black Americans newly freed from slavery. Night Song takes place in 1882, when Sergeant Chase Jefferson, of the Tenth Cavalry — the Buffalo Soldiers — comes through Kansas and meets a lovely young schoolteacher, Cara Lee Henson. Crucially, Chase was born into slavery, and Cara was born free. Even though they are living after emancipation, they battle each other and the dominant culture to find a place free from prejudice.

The culture clash here, of course, is one of the most bitter of our history: the chasm between enslaved and free. Chase suffers from the demons of his past slavery as well as from the trials of coping with the violence of the present. He considers himself a man without roots — to be tied down would be akin to being enslaved. Thus even as a free man, he is not free, but unable to see himself as anything other than a Buffalo Soldier. Cara's love allows him to see himself not as a past slave, but as a man with a future. Through her, he learns to picture himself as a house-owner, and a husband — a truly free man.

These novels look unflinchingly at the ways in which racial or cultural prejudice shapes a person's life. Each of the heroes encounters violence linked to their cultural roots, to their heritage, or to their race. Each of the heroines, in the pleasure she takes in the whole man and in her lack of prejudice, knits together her divided husband, shaping him into a man who rejoices in his dual heritage. These romances will leave you with a lump in your throat and a smile on your lips — they show men and women at their best: facing adversity with courage and joy.

I wish I could say that marital happiness had shepherded my husband past bitter experiences. The truth is that the only prejudice he encounters has to do with dinner guests on gluten-free diets who reject his pasta.

If you'd like to discuss cultural clashes of any sort, please stop in to chat with Eloisa in the Romantic Reads Book Club, where she'll be joined by Mary Jo Putney and Beverly Jenkins. You can check out Eloisa's past columns in the Archives:. And if you'd like a peek at Eloisa's own romances, please visit her website at www.eloisajames.com.