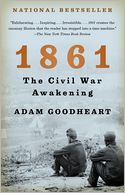 The beginning and ending of the American Civil War is tied to this week — the opening shots fired at Fort Sumter on this day in 1861, General Robert E. Lee surrendering to General Ulysses Grant at Appomattox on April 9, 1865.

Adam Goodheart's recent 1861, a month-by-month portrait of the war's first year, has two "April" chapters, these Northern and Southern snapshots offering a double fulcrum for the divided, seesawing nation. In the first snapshot we are at Fort Sumter, or conspicuously absent: as Major Robert Anderson, the Union garrison's commander, was writing that the imminent attack by Confederate forces had him feeling like "a sheep tied watching the butcher sharpening a knife to cut his throat," the Northern papers were wondering if President Lincoln, caving in even further, would now "ask Jeff Davis for the privilege to breathe." In the second snapshot, taken several days later, we are struggling through a crowd in Lower Manhattan reported to be a half million strong, hoping for a glimpse of the battered, soot-stained Fort Sumter flag that has already been transported north and transformed into a war symbol:
If you managed somehow to clamber up onto the base of a beleaguered lamppost and emerge for a moment above the hats and bonnets of the multitude, you might glimpse what was propped up on the monument in the center of the square: cradled in General Washington's bronze arms, a torn and soot-stained flag on a splintered staff. (One hundred forty years later, in an eerie echo of that long- forgotten day, a later generation would gather around the same statue with candles and flowers in the aftermath of another attack on the nation.)… But then you lost your tenuous foothold…and you were down off the lamppost again, buffeted this way and that by the odorous masses of New Yorkers, ripened by exertion and by the sunny spring day: Wall Street bankers in black broadcloth; pale, flushed shopgirls; grimy men from the Fulton docks, more pungent than anyone else, smelling of fish….
---
Daybook is contributed by Steve King, who teaches in the English Department of Memorial University in St. John's, Newfoundland. His literary daybook began as a radio series syndicated nationally in Canada. He can be found online at todayinliterature.com.