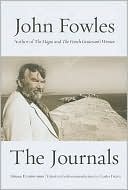 March 31:John Fowles was born on this day in 1926. After a series of hits through thesixties and seventies, Fowles stopped writing fiction after The Maggot (1985), published while he was still in his fifties. Thisis partly explained by a stroke suffered in 1988, but the two volumes of Fowles'sJournals which have so far beenpublished—gleaned from his five decades of journal writing, estimated to totaltwenty good-length novels—offer perhaps stronger reasons.
The Journals confirm the appropriateness of the subtitle chosen forEileen Warburton's 2004 biography of Fowles: "A Life in Two Worlds." Fowlessettled permanently in Lyme Regis, Dorset at the end of 1968, becomingsomething of a recluse, as indicated by his response in 1969 to an American publication which had askedhim to describe his goals in life: "To escape; and to help othersescape." But his film work for The Collector and The Magus required travel to London, Hollywood, and Cannes forscript and casting meetings, and compulsory socializing. His journal entriesfor this period show him irritated by people and bewildered by the sixties. MichaelCaine (star of The Magus) was a"thoroughly unlikeable young man" sugaring over his vanity with"cursory obeisances towards writers and proper artistic standards";Terence Stamp (star of The Collector)claimed, "humourlessly, that each of the Rolling Stones (a pop-singinggroup) lays nine girls a day"; Twiggy was "the latest idiocy in thefashion world."
Notthat life in Dorset was pastoral or marital bliss. Of the many misanthropicentries in the Journals, few are morebrutally frank than those Fowles directs towards his wife: "Living herehas become rather like climbing a mountain with a corpse, a talking corpse, onone's back. Every so often, there are compensations: views, moments ofhappiness. But then the corpse starts complaining, raging…." The Journalsreflect some mellowing as the years go by, though this can seem more a givingup than a coming to terms:
Somehow I no longer worry about being rushed along in thecurrent of time. In an odd way, it is joyous, the clutching at this or thatbranch or rock, yet being tumbled on, always helplessly "behind"; asinvigorating as a real mountain torrent; becoming indifferent to what oneloses, each day and moment.
---
Daybook is contributed by Steve King, who teaches in the English Department of Memorial University in St. John's, Newfoundland. His literary daybook began as a radio series syndicated nationally in Canada. He can be found online at todayinliterature.com.