Reading to explore the work and life of an American original.
---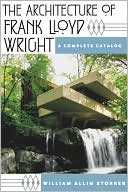 The Architecture of Frank Lloyd Wright:
A Complete Catalog
By William Allin Storrer
Exhaustive studies of more than 430 buildings designed by Wright—from his Prairie homes to the Guggenheim—make up a chronological collection, rich with illustrations, that bring the architect's total vision into life. Storrer, who has written about Wright for more than 25 years, encourages readers to check out the real thing, including maps and GPS coordinates for each address.
---

Lost Wright:
Frank Lloyd Wright's Vanished Masterpieces
By Carla Lind
One out of every five buildings Wright designed has been destroyed. Lind brings back Tokyo's Imperial Hotel, Chicago's Midway Gardens, Buffalo's Larkin Administration Building, and a slew of other buildings of all shapes and sizes for architecture lovers to study and enjoy. Along the way she unfolds her research into just why each of these magnificent works disappeared.
---
By Roger Friedland & Harold Zellman
Among the many larger-than-life aspects of the great architect's career was the cultish atmosphere created by the army of assistants who lived at Wright's Wisconsin estate, Taliesin. This "Fellowship" assisted Wright in creating some of his finest late work, including Pennsylvania's Fallingwater and Wisconsin's Johnson Wax Building. Friedland's wide-angle approach to Wright and his circle makes this book a landmark in its own right.
---

Frank Lloyd Wright:
An Autobiography
By Frank Lloyd Wright
Wright secluded himself in a Minnesota cabin in order to get the story of his life down for posterity, and the result traces his career from his childhood, through apprenticeship with legendary Chicago architect Louis Sullivan, through the genesis of the works which made his name, and the turmoil of his relationships. The contrast between Wright's serene architectural lines and his messy personal life is legendary (and the subject of our final selection, below.)
---
By T. C. Boyle
The unrecorded doings of fascinating historical figures such as John Harvey Kellogg and Alfred Kinsey have been the inspiration for some of T. C. Boyle's most rewarding work. With The Women, Boyle turns his talents to the question of the insatiable Wright's inner lives—as seen through the four very different women with whom he was romantically involved. Our reviewer Ward Sutton called Boyle's re-creation "engrossing," singling out as a "thing of wonder" Boyle's mesmerizing portrait of Wright's disturbed second wife, Miriam. (Click here to see Ward Sutton's Drawn to Read review.)