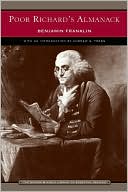 Benjamin Franklin's Poor Richard's Almanack was first issued on this day in 1732, becoming over the next quarter century one of the most popular and lucrative publications in the colonies. In his autobiography, Franklin attributed his success to an "entertaining and useful" formula:
[O]bserving that it was generally read, scarce any neighborhood in the province being without it, I considered it as a proper vehicle for conveying instruction among the common people, who bought scarcely any other books. I therefore filled all the little spaces that occurred between the remarkable days in the calendar with proverbial sentences, chiefly such as inculcated industry and frugality as the means of procuring wealth, and thereby securing virtue; it being more difficult for a man in want to act always honestly, as, to use here one of those proverbs, it is hard for an empty sack to stand upright.
Franklin borrowed his "Richard Saunders" persona from an almanac writer in England, his format from the many other almanacs then published, his title from his brother's Poor Robin's Almanack, and his folksy maxims from proverbial history. But Franklin knew how to give the proverbs some punch — for example, "Fresh fish and new-come guests smell, but that they are three days old," long familiar in England, became "Fish and visitors stink in three days" — and how to give his Poor Richard some personality. Below, Richard provides a frank self-introduction to the readers of his new Almanack:
I might in this place attempt to gain thy Favour, by declaring that I write Almanacks with no other View than that of the publick Good; but in this I should not be sincere; and Men are now a-days too wise to be deceiv'd by Pretences how specious soever. The plain Truth of the Matter is, I am excessive poor, and my Wife, good Woman, is, I tell her, excessive proud; she cannot bear, she says, to sit spinning in her Shift of Tow, while I do nothing but gaze at the Stars; and has threatned more than once to burn all my Books and Rattling-Traps (as she calls my Instruments) if I do not make some profitable Use of them for the good of my Family….
---
Daybook is contributed by Steve King, who teaches in the English Department of Memorial University in St. John's, Newfoundland. His literary daybook began as a radio series syndicated nationally in Canada. He can be found online at todayinliterature.com.