French flavor in big and small packages.
---

Mastering the Art of French Cooking
Deluxe Limited Edition
By Julia Child
While it would eventually inspire the book and movie Julie and Julia and become a bestseller a half-century after its original publication, Mastering the Art of French Cooking created its enduring legacy by feeding the culinary aspirations of generations of American cooks. In the process, it helped to make Julia Child a household name. This complete, limited, deluxe edition presents more than 700 recipes in two clothbound volumes.
---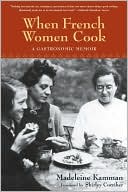 When French Women Cook:
A Gastronomic Memoir
By Madeleine Kamman
A welcome reissue of a classic: in this marvelous book, Madeleine Kamman celebrates the women (from her greatgrandmother Marie-Charlotte to Magaly Fabre, matriarch of a wine domain) from whom she received, and with whom she has shared, the blessing of her culinary vocation. Paceked with recipes and affectionate recollections.
---
Larousse Gastronomique is a thousand-page monument to French cuisine, an encyclopedia of culture filled with definitions, history, recipes, and pictures. You can look for hours for all the dishes you ate in Paris, and be delighted by everything you stumble across on the way.
---
By Edouard de Pomiane
Published in France in 1930, Pomiane's ten-minute cookbook began its life well before the advent of frozen food and microwave, and still retains its appeal for those who view discriminating dining as the appropriate punctuation for the daily round. While they retain a period savor, Pomiane's prescriptions are quite charming, with dozens of dishes to delight plate and palate. (It makes a lovely gift, too.)
---
By Richard Olney
Foodies in the know treasure the kitchen wisdom and tasteful erudition of Richard Olney's books on French cuisine, and this one is the best place to start. You'll even learn more than you thought there was to know about how to make perfect scrambled eggs, and be very glad you did.