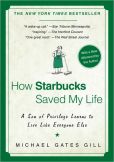 Starbucks, now the world's largest coffeehouse company, opened its first store in Seattle, Washington, on this day in 1971. Recent books have told the Starbucks success story as a sociological phenomenon (Everything but the Coffee: Learning about America from Starbucks, by Bryant Simon), and as a better-business seminar (Leading the Starbucks Way: 5 Principles for Connecting with Your Customers, Your Products and Your People, by Joseph Michelli). Michael Gates Gill's How Starbucks Saved My Life is inspirational on a more personal level, though a Cinderella story in reverse.

The life-saving lesson begins by accident, Gill so wrapped up in his "cocoon of self-pity and nostalgia about lost fortune and family" that he does not realize he has taken a chair in a Manhattan Starbucks that is holding a "Hiring Open House":
"A job," the woman repeated again, smiling, as if I hadn't heard her. "Would you like one?"

Was I that transparent? Despite my pin-striped Brooks Brothers suit and Master of the Universe manner — I had my cell phone resting on top of my expensive leather T. Anthony briefcase as if expecting an important call — could she see that I was really one of life's losers? Did I, a former creative director of J. Walter Thompson Company, the largest advertising agency in the world, want a job at Starbucks?!

For one of the few times in my life, I could not think of a polite lie or any answer but the truth.

"Yes," I said without thinking, "I would like a job."
In an Afterword written for the most recent edition of his bestseller, Gill summarizes "the three L's" behind his personal Starbucks success story — "leap with faith," "look upon others with respect," and "listen to your heart." The help-list expands in Gill's follow-up book, How to Save Your Own Life: 15 Lessons on Finding Hope in Unexpected Places.
---
Daybook is contributed by Steve King, who teaches in the English Department of Memorial University in St. John's, Newfoundland. His literary daybook began as a radio series syndicated nationally in Canada. He can be found online at todayinliterature.com.