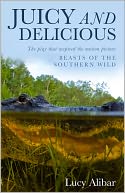 Beasts of the Southern Wild is the art house breakout flick of the summer, a fever dream of a film about a plucky little girl who lives with her father in a Louisiana bayou community seemingly on the edge of the world. Along with director Benh Zeitlin, playwright Lucy Alibar adapted the film from her one-act play, Juicy and Delicious. We spoke to Alibar about revisiting her source material and what went into the creation of her unforgettable characters.
The Barnes & Noble Review: In the Author's Note for Juicy and Delicious you write that you began working on the play when your father was ill. Did writing it help you cope, or allow you to understand your relationship better?
Lucy Alibar: It absolutely helped — to write the father in both Juicy and Beasts, I had to see the whole story from his point of view. All of a sudden I understood more of what my own father must be going through — the fear, the frustration, the anger…the hope that he'll leave a legacy.
BNR: The protagonist of Juicy and Delicious is a little boy — you say that you chose to make the character of Hushpuppy a boy so that the play would not be about you. The film adaptation, of course, features a tough little girl. Do you think Hushpuppy's gender affects the reader's/audience's understanding of the story? How so?
LA: I'm really interested to see a production of the play with Hushpuppy as a girl. Because my first response is, of course it affects the audience's experience. I always felt like there wasn't a blueprint for father daughter relationships — for them or for us. Because what are they supposed to do with us, treat us like boys, or small women, or what? Father daughter relationships are so unique from family to family, and I'd love to watch it explored more onstage.
BNR: You worked with your longtime friend, director Benh Zeitlin, to adapt your play into the film Beasts of the Southern Wild. Did working on the film give you any new insights into the play? Anything that you hadn't noticed on stage that came out on the screen?
LA: Absolutely — I also had time to process my own experience, to really understanding that the world of the story, the world that we're watching, is relayed by Hushpuppy, so it's magical and fierce and strange and filled with music. And that everything the father character does is for Hushpuppy. Everything.
BNR: What do you hope fans of the film will find in going back and reading the play?
LA: Good question! I guess genesis. I hope they love the characters as much as I do. Miss Bathsheba.
BNR: Beasts of the Southern Wild has been a breakthrough hit on the screen. What does the film's success mean for Juicy and Delicious? Any future stagings in the works? Any favorite productions?
LA: I just got the rights back, so no productions set yet. I'm still teary when I think about the production we did at The Tank. It was wild and funny and those actors just tore it up.
BNR: What are you working on now?
LA: Another play! Another movie!
BNR: Who are your favorite playwrights and authors? Any particular plays/books that you find to have been particularly influential in your work?
LA: Oh, I love to read more than anything. I always love the "New Stories From the South" anthologies — I think it's the best short fiction collection anywhere, just filled with treasures. I've admired Kevin Wilson's stories for a long time, and The Family Fang is a brilliant novel. Bailey White writes these beautiful books of vignettes that are all about life in a small Georgia town. Eudora Welty, O'Connor, and Faulkner. Stephen King. And there are so many remarkable playwrights working right now, that I see everything I can. Annie Baker is a genius, I'll see anything she writes. The same for Lynn Nottage, Cynthia Hopkins, and Lisa D'Amour. Anything they've got going on, I'll go see.