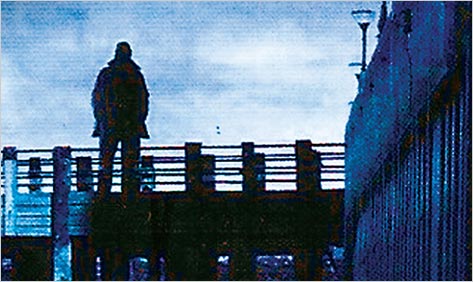 Ten chapters into Mark Billingham's immensely satisfying new novel, From the Dead, Detective Inspector Tom Thorne sums up his working life (which is to say, his life) as follows: "Football and music. Love lives and their attendant headaches. Spatter patterns, rigor mortis and knife wounds." Shuffle the order a little and this could be any fictional homicide detective talking, but that is surely the point. Billingham's Thorne, a cynical and laconic Londoner, is Everycopper. Not showy, not brooding, just thorough and decent, yet nobody's fool; as clear-eyed about his fellow officers as he is about villains. "[C]oppers brought together in teams always seemed to fall into recognizable categories," he observes. "There were the can-do types and the moaners. There were arse-lickers, loners and thugs."

In From the Dead, the twelfth installment in Billingham's series with Thorne at the center, these varieties are deftly personified and their overlords mercilessly skewered. Jargon-spouting Chief Superintendent Trevor Jesmond, for instance, is known for "blithely wafting the stink of failure in the direction of others," typically Thorne or Thorne's immediate boss, DCI Brigstocke. "DCI was a tricky rank," Thorne concedes, "caught in an uncomfortable limbo between the lads and the brass. 'Like a cock in a zip,' Brigstocke had told Thorne once, 'Up or down, it's a world of pain.' "

Failure pervades the early pages. A young woman remains missing, presumed dead, and the murder suspect, soon to become a media darling, is acquitted. Cursed with a heart as well as a conscience, Thorne cannot rid his mind of the "…eighteen year-old girl whose bones lay waiting for an inquisitive dog," even when the next case materializes, one that conjures up a far more malevolent ghost. London businessman and criminal Alan Langford has been presumed dead for over a decade — apparently incinerated in his car by a killer acting for Langford's wife, Donna. But Donna, newly released from prison, receives a photograph in the mail of her husband, alive and smiling. "The sky behind him was cloudless, with the jagged line of a mountain sloping down to a dark-blue streak of sea." Not England, then. But is this Langford, and if so, who perished in the blaze? More photographs arrive, but who is sending them and why?

Almost at random, Donna, engages the services of Anna Carpenter, a twenty-one-year-old aspiring private investigator who brings the puzzle to the police and becomes Thorne's erstwhile shadow. This unlikely partnership, however short-lived, could have mired the novel in cuteness or cliché, but Billingham steers clear of this hazard, keeping the pace brisk and the tone bleak. As Thorne follows the booby-trapped trail to Langford, fresh murder victims present themselves, some tainted but one innocent and destined to haunt him. "[H]e felt again the weight of her as they lay together," Billingham writes, "…her breath bubbling and shallow against his chest and her blood leaking through his fingers." Even the Mediterranean warmth of Marbella, the novel's final destination, cannot penetrate Thorne's icy — and now vengeful — resolve. "Nice isn't it?" his local police contact comments as they approach the sparkling coast. "Looks nice," Thorne replies. Exactly.