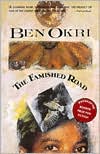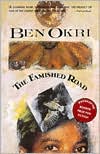 Dear Reader,
I was just reading a short essay written for this blog by an author whose debut novel is one of my absolute favorites (more on this later), and in it, the author talks about the direction his own work took after he fell in love with Ben Okri's luminous novel, The Famished Road — winner of the Booker prize and a 1991 Discover Great New Writers selection.
Which got me thinking about this modern classic, a masterpiece of magical realism narrated by a Nigerian abiku, or spirit child, that I first picked up in '91, on the recommendation of a pal who knows how much I like the work of Gabriel García Márquez. (Joshua Cody, winner of third place, nonfiction in the 2011 Discover Awards is also a fan of The Famished Road.)
I grabbed my copy of The Famished Road, its spine broken in more than one place, and this section caught my eye:
"…How many times had I been born and died young? And how often to the same parents? I had no idea. So much of the dust of living was in me. But this time, somewhere in the interspace between the spirit world and the Living, I chose to stay. This meant breaking my pact and outwitting my companions. It wasn't because of the sacrifices, the burnt offerings of oils and yams and palm-nuts, or the blandishments, the short-lived promises of special treatment, or even because of the grief I had caused. It wasn't because of my horror or recognition, either. Apart from a mark on my palm I had managed to avoid being discovered. It may simply have been that I had grown tired of coming and going. It is terrible to forever remain in-between. It may also have been that I wanted to taste of this world, to feel it, suffer it, know it, to love it, to make a valuable contribution to it, and to have that sublime mood of eternity in me as I live the life to come. But I sometimes think it was a face that made me want to stay. I wanted to make happy the bruised face of the woman who would become my mother."
We've just begun reading for Discover's Holiday 2012 season, so rereading The Famished Road will have to wait for now…
Cheers, Miwa
---

Miwa Messer is the Director of the Barnes & Noble Discover Great New Writers program, which was established in 1990 to highlight works of exceptional literary quality that might otherwise be overlooked in a crowded book marketplace. Titles chosen for the program are handpicked. by a select group of our booksellers four times a year. Click here for submission guidelines.