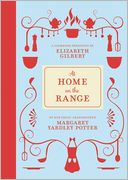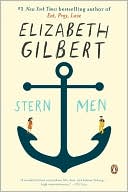 Dear Reader,
In the summer of 2000, a sprightly, slightly off-kilter novel called Stern Men was chosen for the Discover Great New Writers program. The tale of a young woman who finds herself smack in the middle of a longstanding feud between lobstermen off the coast of Maine was Elizabeth Gilbert's first novel, and is still one of my favorite Set-in-New-England reads. "The talented Elizabeth Gilbert," we said then, "has created a community of immensely satisfying and very real characters, and delivers a rich story full of good humor."
While Gilbert had published an earlier collection of stories, Pilgrims (nominated for the PEN/Hemingway Award) she will still mostly know for her freelance journalism at the time Stern Men was published. Her third book – The Last American Man, the fascinating true story of Eustace Conway – a cross between Davy Crockett and Henry David Thoreau, who fled the trappings of modern life to live off the land in North Carolina — was nominated for a National Book Award and shortlisted for the National Book Critics Award.
But without doubt it was Eat, Pray, Love (which has by now sold over 6 million copies in the United States) that truly made Gilbert a household name — landing her on Time magazine's 100 Poll twice, among other accolades. She followed that massive success with another bestseller, Committed: A Love Story, in 2010.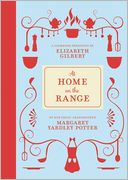 In recent interviews, Gilbert mentions that she's at work on a new novel, but until then, I'll tide myself over with her immensely charming new project, At Home on the Range, a cookbook written by her great-grandmother, Margaret Yardley Potter, and originally published in 1947. I bought a copy this morning, after dipping back in to Stern Men, and tore through Gilbert's witty, loving introduction to her grandmother's fantastic prose (that brings to mind Julia Child and M.F.K. Fisher, two other writers I love to re-read regularly).
This nod for At Home on the Range from GQ magazine is pretty great:
"Before there was Eat, Pray Love, before there was Blood, Bones & Butter, there was At Home on the Range …This is a cookbook that puts to shame all the recent efforts by so many hipsters and pretenders. Her great-grandmother was a dogged food reporter and great food explorer. Her passion fills the page. If you are a man, you need this cookbook. It's the kind of cookbook you hope that the woman you marry writes after a few years as your wife. As Gilbert says, Gima's is a voice that is one-part Dorothy Parker, one-part M.F.K. Fisher: This is not just a book of recipes (though it has plenty of those, a perfect recipe for pressed chicken among them), but also a cookbook for life."
After reading the first few chapters of At Home on the Range, it's pretty clear to me that writing's imprinted on Gilbert's DNA.
And one more reason to pick up a copy of At Home on the Range: Gilbert is donating all of her proceeds from this edition of her great-grandmother's cookbook to ScholarMarch, a nonprofit organization that increases college access for low-income students of exceptional promise.
[Gabrielle Hamilton's Blood, Bones & Butter was a Summer 2011 Discover Great New Writers selection.]
Cheers, Miwa
---

Miwa Messer is the Director of the Barnes & Noble Discover Great New Writers program, which was established in 1990 to highlight works of exceptional literary quality that might otherwise be overlooked in a crowded book marketplace. Titles chosen for the program are handpicked by a select group of our booksellers four times a year. Click here for submission guidelines.