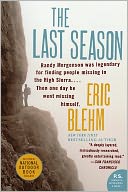 Dear Reader,
Eric Blehm started hiking the High Sierras when he was 14, and it was his knowledge of and respect for this demanding, almost other-worldy terrain, that convinced Randy Morgenson's widow that he was the right journalist to tell her husband's story, for, as she said to him, knowing the Sierra was the key to knowing Randy.
This is what we said when The Last Season was selected for the Discover Great New Writers program in Summer 2006 (and before it won first place, nonfiction in the 2006 Discover Awards):
"To pick up The Last Season is to lose oneself in a mesmerizing story about a place few could survive in and even fewer have visited — the unforgiving backcountry of the Sierra Nevadas. Blehm narrates this true account of the disappearance of and search for Randy Morgenson, a National Park Service ranger who, one morning after 28 seasons on the job, failed to answer his radio call…. Blehm seamlessly combines a detective story with a celebration of nature that calls to mind the works of classic American writers like Thoreau and Emerson."
Blehm's second book, The Only Thing Worth Dying For, was a New York Times and Wall Street Journal bestseller. "Through careful reporting and crisp narrative pacing, Eric Blehm has given us a thrilling, forgotten drama from the opening chapter of the war in Afghanistan. The Only Thing Worth Dying For will become an enduring classic of this extraordinary theater, where so much hangs in the balance," said Hampton Sides, bestselling author of Ghost Soldiers (winner of first place, nonfiction, in the 2001 Discover Awards) and most recently, Hellhound on His Trail.
Fearless is the story of Adam Brown, from his rocky adolescence to his outstanding success — and sacrifice — as a member of the now-legendary SEAL Team SIX. This passage caught my eye as I was paging through, preparing to write this post:
"'You need to tell the whole story,' John Fass admonished me as we ate at a favorite restaurant of Adam's near the Virginia Beach boardwalk. 'There are enough books that show how tough SEAL training is, there's enough Tom Clancy fiction. What there isn't enough of is the humanity. When you start digging, you are going to find a whole lot of humanity in Adam Brown.'"
Cheers, Miwa
---

Miwa Messer is the Director of the Barnes & Noble Discover Great New Writers program, which was established in 1990 to highlight works of exceptional literary quality that might otherwise be overlooked in a crowded book marketplace. Titles chosen for the program are handpicked by a select group of our booksellers four times a year. Click here for submission guidelines.