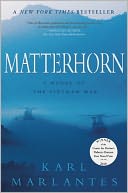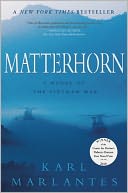 Dear Reader,
I was still producing events for Barnes & Noble when I first heard about a Vietnam novel, 30-years-in-the-making, from a colleague here, one who knows I'm a huge fan of Tim O'Brien's. I can't think of a better way to lose a weekend than the one I did reading Matterhorn, and I'm hardly alone.
Of Matterhorn, Hampton Sides, author of Ghost Soldiers, winner of first place, nonfiction in the 2001 Discover Awards, said, "Never have we seen the particular horrors and challenges of Vietnam so richly explored, and never have we felt the tactile experience of the war depicted with such mesmerizing force. We see the big picture, but as with all great novels, it's the tiny details—the mud, the leeches, the adrenaline-drenched dread of combat, and the tender joy of comradeship—that linger with the reader long after the story is over."
Before Matterhorn was released to the public — and overwhelming acclaim — the original publisher, El León Literary Arts (Berkeley, CA) submitted it to the Discover Great New Writers program. Poets & Writers has a detailed recounting of the story behind the publication of Marlantes's debut here.
Marlantes followed up his bestselling novel with the contemplative, candid What It is Like to Go to War last year.
Cheers, Miwa
---

Miwa Messer is the Director of the Barnes & Noble Discover Great New Writers program, which was established in 1990 to highlight works of exceptional literary quality that might otherwise be overlooked in a crowded book marketplace. Titles chosen for the program are handpicked by a select group of our booksellers four times a year. Click here for submission guidelines.