Dear Reader,
While I know very little about MMA fighting, I'm a huge fan of Katie Kitamura's ferociously spare prose and have recommended her debut novel The Longshot — an '09 Discover pick — to both sports fans and literature fans over the years. (Though I've heard more than once that for fans of MMA, The Longshot is the real deal.)
I couldn't wait to get my hands on Katie's second novel, Gone to the Forest ("floats, unfolds, and astonishes," says The SF Chronicle), and stayed up far too late because I had to know how this family drama set against a backdrop of looming civil war played out — and because of sentences like these:
"One month ago she arrived in the country and she saw there was nothing here she could not handle, nothing beyond the arid air. She had been warned that it was wild country going wilder, but she had already survived the drawing rooms at home. Home being a ruthless territory, cruelty on display with the silk and china. She had almost been relieved by the barren expanse of country. She had not thought–did not think–that men could be changed by means of landscape."
We asked Katie to tell us about 3 books she frequently recommends, and this is what she told us: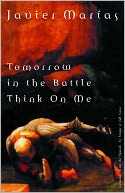 The trilogy Your Face Tomorrow is undoubtedly Javier Marías' masterpiece, but the book I find myself most often recommending is Tomorrow In the Battle Think On Me. The novel has a typically audacious premise: a man is about to consummate an affair with a married woman when she dies in his arms. The book's spiraling pattern of guilt, obsession, and complicity is recounted by one of Marías' most troubling narrators, a man who is at once pedestrian and wholly amoral. Almost all of Javier Marías' novels feature extraordinary set pieces – situations that unfold in complex ways, doubling back on themselves and threatening to come undone at the seams, while the stakes slowly rise to almost unbearable levels – and this one is no exception.
With the recent English translation of his first novel, Sátántangó, Lázsló Krasznahorkai is at last drawing a wider readership in the English-speaking world. Happily, the 'Hungarian master of apocalypse', as he was described by Susan Sontag, has a sizeable body of work including two later novels that have been wonderfully translated by the Hungarian poet George Szirtes. My favorite of these is The Melancholy of Resistance, which was adapted for film by Béla Tarr, Krasznahorkai's long time cinematic collaborator. This is an incredibly dense, roiling piece of writing, which reads like a cross between Bulgakov, Beckett and Kafka. It features, among other things, a stuffed whale, marauding street gangs, and a seriously discomfiting train journey.
Elfriede Jelinek's novels are the most genuinely confrontational works of fiction that I've read. They depict the transactional nature of relationships between men and women and read like frank indictments. The rather sentimental associations of words like 'honesty' and 'brave' make them anathema to Jelinek's project, but rest assured that this is stark and ego-free prose. The Piano Teacher is perhaps the most accessible of her novels, along with Wonderful, Wonderful Times but I also find Lust – in effect an extended description of rape in marriage – a necessary read. It should be added that Jelinek, like Marías and Krasznahorkai, has an excellent sense of humor, though it may not be obvious from the way I've described her work.
(Gone to the Forest reminds me a bit of an '08 Discover pick, Ceridwen Dovey's Blood Kin, and Sarah Weinmen recommends both The Lonsghot and Gone to the Forest to readers looking for satisfying follow-ups to Discover alumna Gillian Flynn's Gone Girl in Salon.)
Cheers, Miwa
---

Miwa Messer is the Director of the Barnes & Noble Discover Great New Writers program, which was established in 1990 to highlight works of exceptional literary quality that might otherwise be overlooked in a crowded book marketplace. Titles chosen for the program are handpicked by a select group of our booksellers four times a year. Click here for submission guidelines.