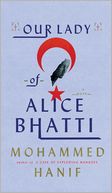 A Case of Exploding Mangoes belongs in a tradition that includes Catch-22, but it also calls to mind the biting comedy of Philip Roth, the magical realism of Salman Rushdie and the feverish nightmares of Kafka. But trying to compare his work to his predecessors is like trying to compare apples to, well, mangoes, because Hanif has his own story to tell, one that defies expectations at every turn. – The Washington Post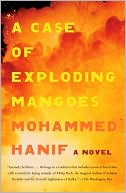 Dear Reader,
This is what we said when we selected Mohammed Hanif's A Case of Exploding Mangoes for the Discover Great New Writers program in 2008: "[A] sly, riotous send-up of Mideast politics, the unintended and often disastrous consequences of American foreign policy, the hypocrisy of Islamic fundamentalism, and last but not least, the far, if not lighter, side of tyranny and torture….a frolicking and shocking political satire."
Critics are already championing Hanif's new blackly comic novel, Our Lady of Alice Bhatti, the tale of a young woman — freshly released from jail and now working as a junior nurse — who refuses to conform to Pakistani society's expectations.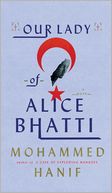 "Rambunctious, vulgar, funny and moving, Our Lady of Alice Bhatti wields enormous emotional punch . . .Not until the end does the reader realize that the deft skewering of a social ill may have been Hanif's intention all along. The book is instead peopled with three-dimensional individuals, who live with their flaws and what life throws at them, improvising responses to extraordinary situations." — Time
"In this bold, uncompromising novel, Hanif draws a compassionate and despairing portrait of a nation in bedlam . . . Distressing, illuminating, and often funny." — The Financial Times.
"Utterly fearless…a novel marked by an irreverence that dances on the line of what extremists could easily call blasphemy. . . . Mr. Hanif, like Lear's fool, exposes corruption and depravity in Pakistani society through barbed gags and deceptive silliness….The scenes are frequently dazzling. Mr. Hanif depicts urban riots, police brutality, medical malpractice (we meet a surgeon who refuses to sew up his patients until he has been paid in cash), and entrenched misogyny with a frenzied sense of humor and genuine humanity – and a freewheeling dauntlessness that is exhilarating to behold." — The Wall Street Journal
Fans of sharp, dark social comedy like A Case of Exploding Mangoes and Our Lady of Alice Bhatti might also consider Alex Gilvarry's Spring '12 Discover pick, From the Memoirs of a Non-Enemy Combatant, or Annalena McAfee's Summer '12 Discover pick, The Spoiler for their next read.
Cheers, Miwa
---

Miwa Messer is the Director of the Barnes & Noble Discover Great New Writers program, which was established in 1990 to highlight works of exceptional literary quality that might otherwise be overlooked in a crowded book marketplace. Titles chosen for the program are handpicked. by a select group of our booksellers four times a year. Click here for submission guidelines.