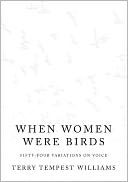 Dear Reader,
Voice.
Voice — whether the characters' or the author's alone — carries a lot of weight for the selection committee when we're reviewing submissions for the Discover Great New writers program. Voice distinguishes a decent read from a good read, certainly, but it's also a key to making a narraive haunting, indelible, enchanting — you name it. I've personally never recommended a book solely based on plot; but I have recommended countless books because of the voices and the often gorgeous and supple, sometimes audacious writing that built them.
It's been years since I first read Terry Tempest Williams's 1992 Discover pick Refuge, a hybrid of personal memoir and reportage — not unlike Kristen Iverson's upcoming Summer 2012 Discover pick Full Body Burden, due 6/5. Wiliams's newest book, When Women Were Birds: Fifty-four Variations on Voice is a marvel, a deceptively slim volume, a meditation on finding one's voice.
Susan Salter Reynold's eloquent commentary on When Women Were Birds in the Barnes & Noble review is here.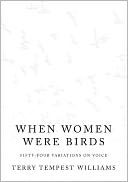 When Women Were Birds opens thusly:
"I am fifty-four years old, the age my mother was when she died. This is what I remember: We were lying on her bed with a mohair blanket covering us. I was rubbing her back, feeling each vertebra with my fingers as a rung on a ladder. It was January, and the ruthless clamp of cold bore down us outside. Yet inside, Mother's tenderness and clarity of mind carried it's own warmth. She was sying in the same way she was living, consciously.
'I am leaving you all my journals,' she said, facing the shuttered window as I continued rubbing her back. 'But you must promise me that you will not look at them until after I am gone."

I gave her my word. And then she told me where they were. I didn't know my mother kept journals."
(I'm off to Death Valley in a couple of weeks, which seems the perfect time and place to revisit Refuge…)
Cheers, Miwa
---

Miwa Messer is the Director of the Barnes & Noble Discover Great New Writers program, which was established in 1990 to highlight works of exceptional literary quality that might otherwise be overlooked in a crowded book marketplace. Titles chosen for the program are handpicked by a select group of our booksellers four times a year. Click here for submission guidelines.