Dear Reader,
I've been thinking about vacation reading nonstop this week, as I'm off to the desert at the end of the month — and I'm almost giddy with thoughts of time freed up for reading, re-reading, and more thinking about books. Though there are plenty of new Discover submissions to review for Holiday 2012, I'm also adding Peter Carey's The Tax Inspector, Terry Tempest William's Refuge, Edwidge Danticat's Breath, Eyes, Memory — all previous Discover selections –as well as An Ice-Cream War by Discover alum William Boyd to my bag.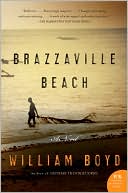 Earlier this week, it was announced that Boyd (Brazzaville Beach, Discover Summer 1991) had been selected to write the next James Bond novel, to be published in the fall of 2013 – and while he's the most recent writer — with Kingsley Amis and Sebastian Faulks preceeding him — picked by the Fleming estate to take on the iconic 007, I couldn't think of a more perfect choice, given Boyd's considerable storytelling talents.
I'll confess to a personal love of Boyd's Africa-set comic fiction, such as A Good Man in Africa or An Ice-Cream War, but he has an equal talent for writing thrillers like Restless or Ordinary Thunderstorms, sometimes combining elements of the two, as he did for Logan Mountstuart's middle years in Any Human Heart or Lysander Reif in the recently published Waiting for Sunrise . Boyd's insights into human foibles, keen plotting, fascination with history, and ability to conjure an atmospheric read are absolutely top-drawer, and why I'm happy to follow him down the rabbit hole with each and every book.
Cheers, Miwa
---

Miwa Messer is the Director of the Barnes & Noble Discover Great New Writers program, which was established in 1990 to highlight works of exceptional literary quality that might otherwise be overlooked in a crowded book marketplace. Titles chosen for the program are handpicked by a select group of our booksellers four times a year. Click here for submission guidelines.